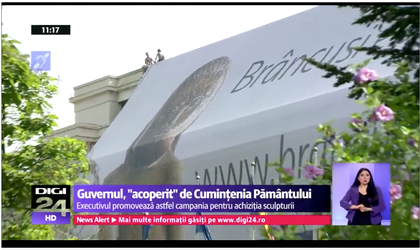 A banner promoting the public subscription for The Wisdom of the Earth, a seminal work by Romanian sculptor Constantin Brancusi, was placed on Tuesday on the Government building.
The banner features the image of the sculpture, a modernist masterpiece valued at EUR 11 million, alongside the Romanian flag and the message "Brancusi is yours, just like this country is yours too." The website promoting the subscription, www.brancusiealmeu.ro, which was created for the campaign, is also placed visibly on the banner.
The Government and the Ministry of Culture launched the public subscription campaign on May 19. The Government will contribute EUR 5 million to the purchase, and looks to collect the remaining EUR 6 million by September 30.
The project is supported by numerous artists, actors, sportspeople and diplomats, including Maia Morgenstern, Oana Pellea, Nadia Comaneci, Ilie Nastase, Dan Perjovschi and French Ambassador Francois Saint-Paul.
Prime Minister Dacian Ciolos is a big supporter of the initiative and back in April he donated one month's wage as part of the subscription. "I have decided to do this because Brancusi is also mine," the PM said at the time.
Created in 1907, The Wisdom of the Earth was first exhibited in 1910 in Bucharest and was purchased one year later by Romanian engineer and art collector Gheorghe Romascu. During the communist regime the artwork was seized. After the fall of communism, the sculpture was returned to its owners in 2008 and four years later was put up for sale. The Romanian state has preemption rights on the art piece.
On June 15 the Government announced that it had raised EUR 212,000 as part of the subscription. The last time a piece connected to Brancusi was put up for sale – a plaster cast of his sculpture The Kiss – it collected EUR 5.4 million at a Christie's auction.
Georgeta Gheorghe