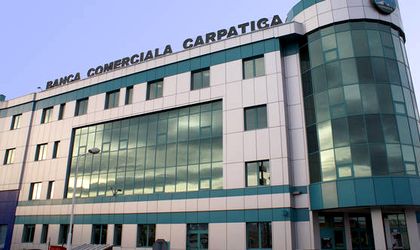 Banca Comerciala Carpatica (BCC) will appoint two new members in the Administration Board during the general meeting of the shareholders that will take place on April 27, according to release submitted to the Bucharest Stock Exchange (BVB).
The document doesn't mention the shareholders' proposals for the two positions, according to News.ro. At the same time, during the meeting, the bank will approve the individual salaries for the Administration Board for 2017, and the consolidated financial results from 2016.
BCC registered losses of RON 42.06 million in 2016 (EUR 9.3 million), a drop by 44 percent compared with the negative result from 2015, after some cuts in expenses to compensate the reduction of the charges.  The bank's solvency went up by 14.6 percent, over the legal minimum level, at the end of 2016 and to 4.9 percent in 2015 due to the capital increase in February by the new shareholder, Patria Bank. The bank restructured its activity in 2016. Carpatica registered a drop in revenues from exploitation in 2016, by 27 percent up to RON 83.5 million due to the reduction of the incomes from interests by 19 percent up to RON 38.8 million and the incomes from commissions by 7 percent to RON 20 million.
To compensate the reduction of the charges, the bank cut the operational expenses by 14 percent compared with 2015 to RON 115.9 million. The personnel expenses went down by 11 percent in 2016 to RON 57 million.
Patria Bank owns 64.16 percent of the BCC shares after the close of the public tender from March 2016 for shares buying owned by the minority of the shareholders, acquiring 9.37 percent for RON 21.67 million.