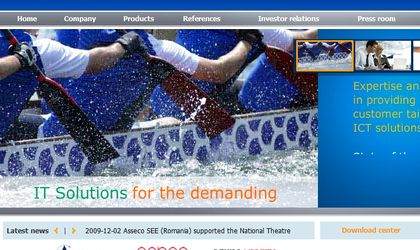 Asseco South Eastern Europe S.A. (ASEE) purchased the shares of Romanian company Probass, supplier of software solutions for the banking system.
The administration board of ASEE announced that on December 11 the company finalized the takeover of a 100 percent stake of the capital of Probass S.A.
Of the total cost of the acquisition, 60 percent of shares were bought in cash for a sum of EUR 7.7 million. The rest of 40 percent of shares were purchased as such, so Probass shareholders will become ASEE shareholders.
Probass will be totally integrated into the ASEE structure that is already existent in Romania, especially as far as the team responsible for banking solutions is concerned.
The Probass acquisition is part of the ASEE strategy to build a regional IT group that operates in Albania, Bosnia and Herzegovina, Bulgaria, Croatia, Montenegro, Kosovo, Macedonia, Moldova, Romania, Serbia and Slovenia. Asseco SEE is a Polish company that was formed following the acquisition of Romanian companies Net Consulting and FIBa Software in 2007.
In 2008, Probass turnover was EUR 2.5 million and the net profit amounted to EUR 1.6 million. The company has 25 employees.