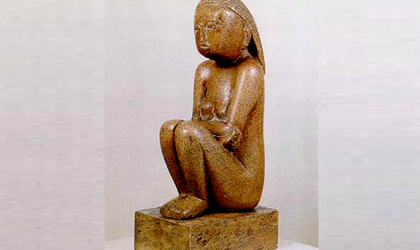 Around EUR 138,000 were collected in donations for "Wisdom of the Earth", almost 50 percent from this amount being reached after the launch of a national support campaign on May 19, according to a press release sent by Romanian Government.
The donors are  3, 455 natural and legal persons, as the acquisition can be made by Romanian state and its citizens.
The government has already allocated EUR 5 million from the budget in order to buy the sculpture and EUR 6 million are needed from individual donations from citizens and companies by September 30.

This sculpture is representative for the entire work of Brancusi and it is the last one that the Romanian state can recover at present, in order to be available to the entire public and art lovers, after several works of Brancusi were sold in the last years to private persons or unique collections.
The Romanian prime minister Dacian Ciolos declared that he is grateful to all Romanian for their support and that "once more, the certainty that we dispose of resources, maybe not aware of, for many of us, of national cohesion around great country projects was  strengthened. "
The government promised to announce periodically on 1st day and the 15th of every month, until September 30, the amounts it collected unde the public subscription.
Doina Lemny, doctor in art history, researcher and museum specialist at National Modern Art Museum , Pompidou Center from Paris, declared that the "Wisdom of the Earth is one of the greatest and important masterpiece of Brancusi. It was created in a deceiving moment from the artist's life, in 1907-1908, when he decided to abandon the mold and to sculpt in wood, rock and marble."
Georgiana Bendre