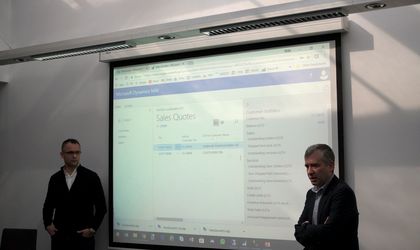 According to the experts from Arggo Consulting, a Romanian company offering software solutions and one of Microsoft Romania's main partners, making use of cloud hosted solutions creates a 'huge competitive advantage' for companies , regardless of their size or the industry they are activating in. Technology enables companies to host in cloud all their business systems from ERP to CRM allowing their employees to work anytime and from anywhere while taking full advantage of their systems capabilities.
Arggo Consulting hosted "The Future of Business is in Cloud", an event attended by representatives of important players on the Romanian market, which focused mainly on the Azure solutions as well as the benefits of hosting all the business's systems in cloud, on the major changes GDPR will bring for companies and last by not least on the strategy Arggo Consulting is using for creating new services and products, hosted in cloud, for its clients and potential clients.
Catalin Florescu Cloud Solution Team Leader, Arggo Consulting, not only described how "all companies nowadays can have access to complex business solutions, a company can be managed without massive investments and take advantage of the scalability offered by the cloud solutions" but also discussed with Iulian Stefan, IT Director PayPoint Romania and Silviu Corcoz IT Director Sphera Group about the major benefits of the Azure solutions implemented by Arggo Consulting.
Eduard Bisceanu, National Tech Officer, Microsoft Romania had an interactive discussion with the audience about the impact of GDPR regulations especially on data security.
Describing the mindset of the next generation solutions which Arggo Consulting prepares for its clients Alexandru Radu, Business Development Manager, Arggo Consulting says that "What we set out to do is to combine three things. Our expertise in implementing highly specialized and customized business solutions, the latest trends and the power of the cloud. Using those elements, we create efficient, scalable, customer-oriented solutions dedicated to all types of industries and companies."