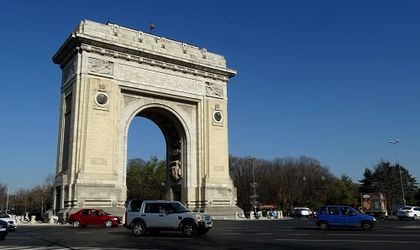 Since last week, Arcul de Triumf will be open to the public every weekend from June 10 to October 29, announced the Mayor of Bucharest, Nicușor Dan. The building can accommodate visitors between 2:00 PM and 9:00 PM.
Arcul de Triumf, one of Bucharest's symbols, is a monument dedicated to the victory of the Romanian Army in World War I. The construction was carried out in stages, namely in 1922 and 1935-1936. Initially, the building was made of wood covered with stucco, but in 1935-1936, it was completely rebuilt according to the design of architect Petre Antonescu, this time using reinforced concrete and granite.
The inauguration of Arcul de Triumf took place on December 1, 1936, in the presence of King Carol II and Queen Maria. The building stands at a height of 27 meters. Inside the two pillars, there are stairs that lead to the terrace above the monument. The stone sculptures, including bas-reliefs, medallions, and inscriptions, were created by a group of sculptors led by I. Jalea, C. Medrea, and C. Baraschi.
Over 15 famous arches in the world
There are at least 15 famous arches in the world, each of them resembling more or less the famous Arc de Triomphe in Paris, which is located at the Place de l'Etoile. It was built by architect Jean-François Chalgrin at the request of King Louis-Philippe in 1836 (after Napoleon initially requested it in 1806). Chalgrin was inspired by the Roman Arch of Titus but wanted to exceed previous creations with its impressive size. As a result, the Arc de Triomphe's dimensions are 50 meters tall, 45 meters long, and 22 meters wide (164 feet tall, 147 feet long, and 72 feet wide).
Other famous arches are Arch of Triumph of Kim Il-Sung in Pyongyang (North Korea), Simpang Lima Gumul Monument in Kediri (Indonesia), Patuxai Gate of Triumph in Vientiane (Laos), The India Gate in New Delhi (India), The Washington Square Arch in New York City (USA), Arc de Triomf in Barcelona (Spain), or Brandenburger Tor in Berlin (Germany), among others.