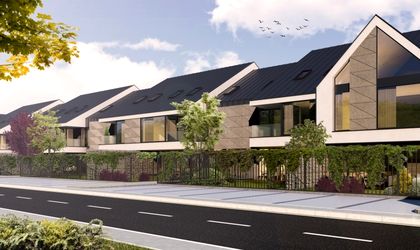 SMAA, one of the largest residential architecture offices in Romania, is expanding its business by launching a real estate development division that develop a project of 16 houses of EUR 2 million, in the north of the Capital city. The company previously designed over 3,000 apartments in over ten housing complexes and many other luxury private properties.
Cartierul cu Ciresi neighborhood is located in the Pipera-Voluntari area, ten minutes away from the Promenade – Floreasca – Aviatiei area, and is mainly addressed to large families with children who need space and comfort.
The project comprises 16 houses with six or seven rooms and is located in the vicinity of two forests: Andronache and Boldu-Cretuleasca. The houses have a terrace, courtyard and parking spaces, modern design and quality materials, as well as interior architecture that ensures a superior efficiency of the space.
"Experience helps us to develop a quality project with rational functions, having previously designed several residential complexes and luxury private homes. We offer a modern housing solution, ideal for many families, at a price similar to that of a three or four-room apartment in the neighborhoods of the northern area, such as Aviatiei, Baneasa or Floreasca. Beyond the interior of the house, we paid special attention to the exterior architecture and court planning, "said architect Silviu Mihăilescu, founder of the SMAA Architecture Office.
The construction of the Cartierul cu Ciresi project was started in June this year and will be completed in May 2019. With an investment value of EUR 2 million, the project is the first such initiative of an architectural office, through its own residential development unit.
As a result of the expansion of its business, SMAA aims to develop a new housing complex every year, starting in 2019 with a residential project in the western part of Bucharest.
SMAA was set up in 2008 as a multidisciplinary office dedicated to innovative architectural solutions. Already a brand on the residential segment, SMAA also offers office and commercial services as well as modern interior design solutions.