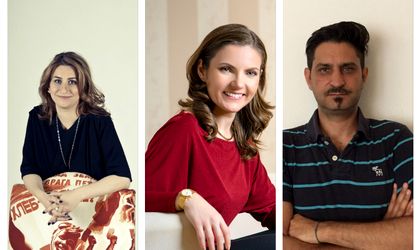 Not even the summer vibe managed to slow down full service projects and campaigns that took over agencies' lives this year.
Romanita Oprea
 The last two-three years in the Romanian marcomm industry all started with big hopes and expectations, project proposals and new business. However, this year, they're slowly beginning to fade away after the first or second trimester. Also, summer used to be a time when many agencies closed their doors, sent people on vacation or simply told them to take it easier on the work front. However, so far at least, 2016 is proving to be a very atypical year; it's proving to be a year of non-stop projects. The energy, desire and optimism of the first half of the year didn't fizzle out during the summer, which used to be, more or less, an easier and more relaxed period of time for the marcomm industry. "We have actually never stopped receiving offer requests over the year. From this point of view, it has been a very active year, with potential clients constantly looking for the best communication solutions for their needs, at a moment when our industry itself faces changes and transformations in terms of the expectations clients have as well as the range of services we, as PR agencies, may offer. We also felt, more than ever,  that we had more brand awareness on the market and this directly impacted our development – being more visible, due both to our results and our growing client portfolio, has helped us to continuously attract new opportunities," said Raluca Ene, managing director at Chapter 4 Romania.
Other PR agency representatives that BR spoke to said the same. According to Sorina Mihai, managing partner at Porter Novelli, 2016 has so far been a lot busier than the previous ones for the company. "It might be true as a general trend. Still, seasonality is influenced by the types of clients an agency communicates for and their business peaks during the year. We always believed a diverse portfolio would ensure constant activity in client service, strategy and creative departments, as well as the solid development of the agency."
There is also enthusiasm from the clients' side that is translating into more work and attention for the agencies. Sorin Tranca, managing partner at TBWA\ Friends, sees a lot of enthusiasm and new energy, most of its clients boasting encouraging figures and being more satisfied with market conditions, at the moment, he says. "Nobody wants to work with gloomy, dark people who fear losing their job, especially when you're trying to sell them creative ideas. And I feel I don't say this enough, so bear with me as I will say it again and again and again: 'creative' ideas, that is ideas that can transform a business or a brand, always have a risk attached. They are not easy to buy into, because you kind of have to risk along with your partners, and sometimes it's not easy," commented Tranca. He says he has tremendous admiration for brand managers and marketing managers that have an eye for creative ideas and the heart to go for it, sometimes risking their job to make them happen.
The economy is posting growth, and on a more relevant note consumption is growing on virtually all FMCG sectors, "so, yes, it's been a challenging beginning of the year, with the first and second trimester very active. What I am very busy with, however, in times like this, is with managing the people right, our people, because a lot of this positive economic climate translates into a very busy period in the agency, thus a potentially stressful time for my colleagues. In times like this you always have more to do, faster, so another thing you need to look at, as head of the agency, is if your product does not dilute," added Tranca.
But is this buzzing and working hard also starting to reflect on finished campaigns or is it just a desire to satisfy a client's point of view? Are campaigns seeing the light of the day or are they still mostly proposals, ideas, meetings and more meetings with no palpable end result? In the Chapter 4's representative point of view, the answer depends on the market and on the type of business. Most small businesses try many options before working out which is the right communications tool for them. As it turns out, PR is usually not the perfect fit for their business objectives, so often times the agencies offer their general experience and a lot of consultancy before closing any deal. "On the other hand, larger businesses, more attuned to using PR services, have become more efficiency-oriented and, therefore, also more demanding in terms of ROI and the measurable results they expect. For us, this sometimes means expanding our portfolio of services with activities that haven't traditionally been specific to PR, but have become part of the content management strategy we are building together with our clients," added Ene.
At the same time, the dynamics of a PR agency's work and proposals is very much influenced by the industries it services. This year, Ene has been approached and had talks with several businesses from growing, active industries, for which PR was, until now, not a priority. However, as the economy is moving full-steam ahead and demand for these segments is growing, this situation is bound to change. "Therefore, while there have been new business opportunities that have not yet been finalized, we strongly feel it is only a matter of time before these companies take the final leap to choose an agency," concluded Ene.
What about the budgets? Is agencies' work becoming more appreciated or not, in the eyes of the client? Sorina Mihai is convinced that good strategy and inspiring creativity will always be appreciated by the client. "Nevertheless, sometimes budget or time constraints pressure us to adapt the ideas and rethink the creative solutions. But this comes with the territory. Over the past few years, we have managed to attract more clients open to experiments and progressive thinking, who trusted our advice and whose brands stand for something meaningful. Enthusiasm and passion always pay off. And they are essential to building trust between us and the clients because, in the end, we want to do great things for companies that want to build great brands," said Mihai.
Still, Tranca is more reserved, stating that investment in advertising has not even come close to a decent ratio vs. growth. The TBWA\ Friends managing partner thinks the crisis has left some deep marks on local business habits, because "idea" budgets (creative, strategic, executional) are still much smaller than before. "Sometimes, yes, I will admit, I am frustrated by this Becali-like approach to doing things: everything must be better, faster and cheaper simultaneously in Romania, while truly believing that we can win the UEFA cup with a fraction of the investment major clubs do. Consistent success requires a different mentality. The public and the players and the coach are your partners now, you cannot undermine their expertise and dismiss their feedback all the time. Being a great club (brand) means collaboration and a truly nurturing climate," concluded Tranca.