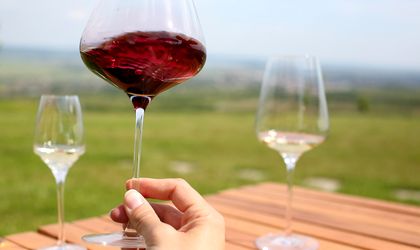 Are you one of those drinkers who find the concept of wine appreciation and wine tasting intimidating, or purchase bottles based on the picture on the label or the price, rather than the taste? To assess the bouquet of this intoxicating business, Business Review talked to two specialists, both Romanian, one active at home and the other in Bordeaux, France.
Many industries are increasingly capitalizing on travel experiences, putting their products on the tourism map. Wine tourism experiences are intensively advertised and more and more people are signing up. Some go just for the fun of it, whereas others intend on becoming professional connoisseurs. What's more, the experience itself doesn't cost a fortune and can offer a fun and informative outing, especially if you find a passionate sommelier to explain everything from the manufacturing process to the chateau stories behind the brand.
Romania, the land of almost 200,000 hectares of vineyard
According to ReVino, the first platform to promote Romanian wine tourism within an actual map of the country, Romania is divided into seven regions: Crisana and Maramures (which has 23 wineries), Transylvania (23), Banat (7), Oltenia and Maramures (66), Moldova (24), Dobrogea (18) and Southern Romania – Danube shores (3). These wineries produce enough plonk to put Romania in 14th place in the world, in terms of wine production. And what's more, 70 of them have opened up their gates to guests.
Doing just vine: how it's done in Romania
Wine tourism isn't very widely known in Romania, so BR asked Alina Iancu, founder of ReVino, how she started a business in this domain. "Over the past six years, I have done a lot of travelling through Romania, visited over 65 different wineries and discovered wonderful landscapes, vineyards, wineries and creative people. In 2014, I founded CrameRomania.ro, a non-profit project which is the only bilingual online database of Romanian wineries. The following year, I started ReVino.ro, a wine tourism trip advisor, promoting wine tours in Romania, accommodation at the wineries or close by, impressive vineyards, tastings, events, gourmet restaurants and wine stories directly from the producers. The year after, I organized the first edition of 'ReVino – Discover Wines from Romania' at the Bucharest Wine Fair, where wine enthusiasts and experts can taste premium wines and discover how to visit a winery directly from its representatives."
Iancu told Business Review what a winery visit entails – whether for an enthusiast or an expert. "There is a presentation of the technological process involved in making wine, a tour of the winery, tasting of 3 to 10 wines accompanied by snacks (bread, cheese) and water and a walk in the vineyard (on request, if the weather is good)."
Pairing tours and people
Some tourists are connoisseurs; some are just learning the basics of wine tasting. How can a guide manage such a diverse group? Iancu said that, before starting to organize a tour or wine tasting, she asks the participants if they are connoisseurs or enthusiasts in order to best arrange the kinds of wines to include in the tasting. Tours can include premium wines from different years, vertical tastings as well as food and wine pairings.
Top tours in Romania
According to ReVino, the most popular wineries are in the Dealu Mare and Dragasani wine areas.
The average cost of a wine tasting, which includes five wines, is RON 50 without nibbles, or RON 80 with nibbles such as bread, cheese and salami. The average cost of a meal (or catering) at the winery is RON 80-100. Iancu strongly recommends a meal in between tastings in order to enjoy the wine at its best.
"For example, a one-day visit to two wineries in the Dealu Mare/Muntenia wine area, between Ploiesti and Buzau, for a group of minimum seven people departing from Bucharest, will cost about EUR 95-115/person. The tour includes winery visits, tasting of approximately ten wines, lunch, a walk in the vineyard if the weather is good, transportation by bus Bucharest-Dealu Mare-Bucharest (or by personal car if participants prefer) and a guide. A two-day visit costs EUR 185-205/person which includes all meals and accommodation," Iancu told BR.
Romania's most spectacular wine story?
Of course, this is a trick question. "Spectacular stories are those where you identify with the group you are in, friends or simply wine lovers, where the wine tasting is done by a wine lover, whether you are on a hilltop, in a vineyard, in a cellar or in a modern tasting room. I have beautiful memories of small places with small groups, where I had the opportunity to really enjoy the wine and meet new people and the good wine was not the only thing that made us feel good. I say this because I have done some tastings in castles and chateaux," suggests Iancu.
French findings
When I started to research this article, I was truly hoping to find a Romanian wine story outside the country. And I found it, thanks to some good friends who are passionate about wine. For a while now, Bogdan Ghita, founder of Bordeaux Vertigo, has been touring probably the most famous wine region of the world, Bordeaux.
"First of all, Bordeaux is one of France's largest wine regions, and definitely one of the oldest. Wine tourism progressively started to develop in the early 2000s. The 'millennium vintage', which happened to be a very good year for the entire Bordeaux wine region, caught the attention of collectors and wine enthusiasts from all over the world. Most of the Grand Cru Classé Chateaux started to open their gates and to receive more and more visitors from all over the world. Understanding the Bordeaux wine region's 'terroir', the wine making process, exploring a chateau and everything else which makes a bottle of wine unique, as well as paring wine and food, are only a few of the highlights of wine tourism," Ghita said at the start of a presentation of the region he is touring.
Doing business in Bordeaux
For Ghita, it all started with an international scholarship. "A scholarship through a European exchange program allowed me to choose between several French cities and I chose the city of Bordeaux and the University Michel de Montagne. This is how everything started…"
He went on, "During my student years in Bordeaux, after my first scholarship ended, I had to work to finance myself. After several student jobs, I came across the intense wine activity, in which many people from Bordeaux are involved. This was the first time I discovered the vineyards, the chateaux, and I become interested in wines. I started to read, explore, to ask many questions and to taste various wines. After spending a few years working for a company providing wine tours for tourists coming to Bordeaux, I decided to start out on my own."
Drinking in the experience
Most of Bordeaux Vertigo's tourists come from North America, mainly the US. There are quite a few people from Canada too, as well as from Europe: the UK, Switzerland, Belgium, Holland and Northern European countries. In the last decade, more and more people from Asia have started coming to Bordeaux, especially from Hong Kong and Singapore, but also Taiwan, the Philippines, Japan and South Korea.
"People's wine interest can vary a lot, from a real connoisseur to a neophyte. The age gap is also quite wide: I have toured with people in their late 20s, but also with those in their late 70s or even older. Some of them have a deep interest in wines, the wine-making process and the history of the Bordeaux wine region, whereas others are simply driven by curiosity, those that are more 'social drinkers'," added Ghita. "On the other hand, it's quite satisfying when people who are just discovering wines start to realize that the color of a red wine comes from the skin of the grape, for example. Each person who shows interest in wine is different, each person will have a unique perception of the wine and appreciate it in his or her own way."
Hitting the road
At Bordeaux Vertigo, most people take the two-day Bordeaux wine tour, called the Essential of the Bordeaux wine region. In other words, spending a full day discovering the Saint-Emilion wine region (also called the right bank), and another full day exploring the Medoc wine region (left bank), will give people a good understanding of the Bordeaux wines, some of its "fairy-tale chateaux" and their history. "Each wine tour I organize is private and tailor-made. I always adapt to people and to their demands and needs. On average, I charge EUR 450 for a full day's private wine tour," says Ghita.
Vintage Bordeaux
Ghita suggests the best time to visit Bordeaux is spring. "Also, the grapes ripen during fall and the end of September provides people with excellent picture opportunities of the vineyards during the harvest," he adds.
The Saint-Emilion wine region is a must when visiting Bordeaux. The medieval village of Saint-Emilion, a UNESCO World Heritage site, enchants whoever wanders its old, narrow and steep streets, Roman ruins and picturesque vineyard hills. But Bordeaux is not only about its wonderful wines and vineyards; it is also a great place for seafood. The Atlantic coast boasts endless beaches with golden sand dunes, pine trees and oyster farming.
Bordeaux's most spectacular wine story?
I once more posed my trick question. "Maybe I have not come across the most spectacular story about this wine region yet, or maybe each bottle of wine which has a story to tell is a spectacular story in itself. Still, I can say that the Bordeaux wine region feels like one of the most international and cosmopolitan places in the world, not only due to its history and people, but especially due to the wine itself. Like the Latins say, Bonum vinum laetificat cor hominis, in other words, good wine enchants man's heart," concludes Ghita.