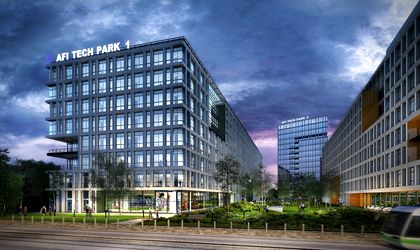 AFI Europe Romania has signed the first lease agreement for AFI Tech Park, the company's newest business park developed in Bucharest. World Class Romania, will be the first tenant of the campus, by leasing 1,500 sq m GLA spread on the Ground Floor and the 1st Floor of AFI Tech Park 1. The lease contract was signed for a period of 10 years.   
AFI Tech Park is developed in the proximity of the JW Marriott Hotel and the Romanian Parliament and will offer 56,000 sqm GLA of Class A offices, comprising of two office buildings with GF+8 and one office tower of 14 floors, all surrounded by over 5,000 sqm of green areas. The first office building, AFI Tech Park 1, will open in Q2 2018, offering 20,000 sqm GLA office space and 2,000 sqm of retail area (World Class gym, canteen and coffee shops).
The investment for the first phase of AFI Tech Park is over EUR 30 million.
"We are proud to announce the first tenant of AFI Tech Park, our newest class A office project in Bucharest. Signing for a 10 year lease term shows the confidence World Class has in our project and the upcoming new zone of development in Bucharest. In addition, the fact that the Business Park is located in Downtown Bucharest and not in City Outskirts provides the Park the unique advantage sought after by multinational companies in Romania" says David Hay, CEO AFI Europe Romania.
The new World Class club, 24rd in Bucharest and 33rd in Romania, will cover an area of 1,500 sqm in AFI Tech Park 1.
Integrated at Bronze package category, the club will offer members the chance to upgrade to different types of memberships.
AFI Tech Park is providing to the tenants 400 sq m conference hall to be shared by the tenants of the office buildings. The entire project is designed to provide high technical specifications especially for IT&C, BPO and shared services companies, as well as large floor plate of approx. 2,800 sq m GLA and also expansion options inside the Park.
AFI Properties is a member of the AFI Group, an international holdings and investments conglomerate with subsidiaries that engage in real estate, construction, infrastructure, industry.