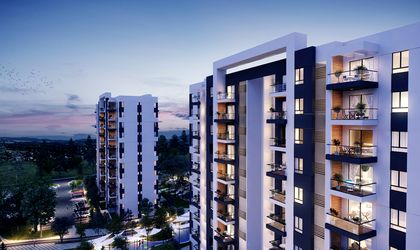 AFI Europe Romania has received the building permit for construction works to begin on AFI City, the first residential project developed by the company in Romania. The building process has been divided into phases, the first one being scheduled to begin in the next 2 months. 
Situated in the North-West part of Bucharest, along the Bucurestii Noi Boulevard, in District 1, phase 1 of the project will consist of 190 apartments, served by 228 above ground parking spaces. Once all phases will be completed, the large scale planned residential project will rank amongst one of the largest residential projects in Bucharest.
AFI City is located on Bucurestii Noi Boulevard in one of the greenest areas of Bucharest, with quick access to the main traffic arteries of the City such as Bucurestii Noi Boulevard, Boulevard Ion Mihalache, Boulevard Poligrafiei and National Road 1 (DN1), as well as to Bazilescu Park and the Straulesti and Grivita lakes. And to complete and have one of the best connected locations in Bucharest, we have the Metro station right in front of the project.
"We have extended our presence on the Romanian market by developing our first residential project in Bucharest. We are currently building 1,000 residential apartments in Belgrade, Krakow, Riga and Prague. These numbers stand as proof of the trust that people across the CEE have placed in us and that we have raised to their standards. Which is what we wish to replicate in Romania, and offer people the home they are looking for," says David Hay, CEO, AFI Europe Romania.
The 190 apartments will vary in size and partitioning, offering Double Studios, 2 room and 3 room configurations. The project encloses the most modern and functional designed apartments on the market. Furthermore, with the surrounding retail facilities, it provides the perfect combination of family, friends and personal lifestyle.
What is more, AFI City raises up to the current sustainability standards and has been pre-certified by the green housing certificate from the Romania Green Building Council.