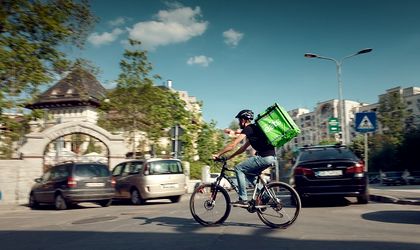 Uber announced today the expansion of its global food delivery app to Bucharest, Romania. Starting today at noon, residents of Bucharest will be able to open the Uber Eats app or visit ubereats.com to order meals from a wide selection of the city's best restaurants – freshly prepared and reliably delivered in an average of under 40 minutes.
Powered by the same global technology used in the ride-sharing service, Uber Eats is an on-demand food delivery app that partners with more than 80,000 restaurants in 200 cities around the world to bring millions of people the food they want at the tap of a button.
Uber has partnered with over 100 restaurants in Bucharest, from which locals can order meals from for every taste and occasion, seven days a week, with Uber Eats. Among them, well-known City Grill group restaurants (Trattoria Buongiorno, Restaurant Pescăruș, City Grill, Hanu' lui Manuc and Hanu' Berarilor), Pizza Bonita, Pep & Pepper, Japanos and El Torito, but also smaller restaurants, like Simbio, Atelierul de Tarte, Burger Van, Finca by Alioli or Fish House, all available in one place and delivered fast and fresh.
In the beginning, the service will be available from 10:30 am to 10 pm, downtown and in non-central parts of the city such as Dristor, Parcul Tineretului, Tei, Drumul Taberei or Pipera business area, with more neighbourhoods to be added in the coming weeks and months.
"We're hugely excited to be launching Uber Eats in Bucharest today, shortly after we've launched our electric mobility service UberGREEN. With this launch, Bucharest joins the hundreds of other cities around the world who've embraced Uber Eats as a new way to get great food delivered fast. We've revolutionised the way people move, now we're transforming the way people enjoy food," said Nicoleta Schroeder, General Manager of Uber Romania.
To answer local residents' demands for quick and reliable food delivery, Uber Eats will launch with an average delivery time of under 40 minutes (with the objective to soon reach 35 minutes or less), with the ability to track orders from request to drop off on the map within the Uber Eats app.
Using technology to help local restaurants grow
Starting today, more than 100 restaurants will open their virtual doors via the UberEATS app. As seen around the world, the Uber Eats app can help local restaurants connect with more customers and also access the technology and data to help adapt and thrive in the growing food delivery market.
"City Grill Group supports innovation and digitization in our day-to-day business, such as digital delivery services or our loyalty app, now a standard in the HoReCa industry in Romania. We are glad to be a strategic partner for the launch of Uber Eats in Romania, as this cooperation is in line with our strategy to use technology to enhance customer experience with our Group brands. Uber Eats will surely be a service appreciated by customers who want to enjoy our flagship dishes, at the office or at home " said Ramona Popescu, Marketing Manager, City Grill Group.
Key features of the UberEats app include: no minimum basket size; scheduled orders; order tracking; personalized recommendations; filters for the right food; restaurant rating system; drop off customization (meet outside or have your food delivered to the door); order food when you ride.