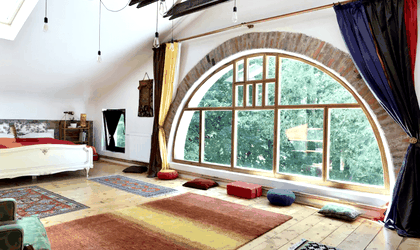 The global vacation rentals platform Airbnb has become very popular in Romania as well, and there are some truly spectacular homes throughout the country where you can spend a wonderful holiday with friends or family.
Here is a list of some of the best homes we found on Airbnb, located in the top holiday destinations in Romania (excluding capital city Bucharest):
Danube Delta Boutique – Partizani village – up to 5 guests
Located at the heart of the Danube Delta, this home is a perfect destination for family and friends to relax and enjoy healthy food and fresh fish dishes from the house's own chef, as well as speedboat trips on the Delta River.
Otto House – Sighisoara – 3-4 guests
The house is located in the heart of Sighisoara, near the renowned 14th century clock tower. It is wonderfully decorated, with traditional furniture that combines with modern facilities to create a cozy and comfortable atmosphere.
The Blue House of Viscri – up to 6 guests
Viscri village in Transylvania has become famous thanks to the frequent visits of Price Charles, who has made significant investments and has promoted the area enthusiastically in the past few years. The Blue House at Viscri 32 is a carefully renovated Saxon house, a 1912 reconstruction on a 1700 foundation, using traditional methods, materials and local craftsmen, preserving the original carved and painted signatures on its beams.
Carpathian Log Home – Bran – up to 12 guests
This is a complex of two identical wooden villas on a property filled with apple trees and meadows, near the forest and the legendary Bran Castle, providing amazing views of the Bucegi and Piatra Craiului mountains. The house offers luxury facilities with solid wood furniture and fine bedding, as well as a terrace and even a hot tub! Guests can find an extensive collection of music and films, a book library and a multimedia center.
Handmade natural forest home – Cluj-Napoca – up to 6 guests
Inspired by organic materials and playful design, this family home is surrounded by gardens and forest, and has easy access to the Cluj city center – the ideal mix between city and country. The two-level interior offers all the facilities you can think of, including a hot tub.
Charming home in Brasov – up to 12 guests
Located at the heart of the medieval city of Brasov, the house features elegant decoration and it is great for a group of friends who want to spend a lovely holiday in Brasov.