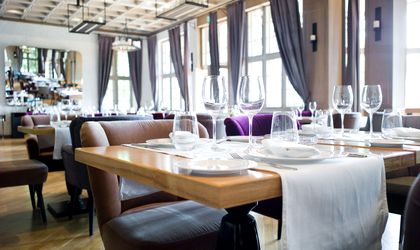 Belgian architect Pascal Delmotte enlivens the spaces he delivers for his clients with a mixture of classic and contemporary interior design notes. The concept is the work of Delmotte and his young team, through a business that is developing via word of mouth.
By  Oana Vasiliu
In a capital city that is considered by the interior designer Pascal Delmotte "a place with beautiful artifacts", a new concept store opens on November 8 and will be adorned with unique pieces of fabric, curtains and wallpaper, as well as ironmongery, decorative objects, light fixtures and tables, everything designed by the artist and his team. The boutique also offers a premiere in Romania, an exclusive Hermes Interior collection, which includes haut de gamme wallpapers and fabrics.
Architect Pascal Delmotte first came to Romania in 1994 with a one-year contract to help a textile design business and settled down in Bucharest, after exploring other Eastern European markets. "Romania was the best market for developing a textile business back then," said Delmotte. The transition from textile design to interior design was made when seven years ago he finished the renovation and interior design of his first house in Bucharest, a high-end 1930s villa.
After that, Pascal worked for one of the first major interior design studios in Bucharest before deciding in 2010 to set up his own studio, La Bastide, with a stronger emphasis on his personal style of mixing up the classic and modern.
His interior designs can be seen in apartments, houses, clubs, offices, restaurants and holiday cottages in Romania, France and Switzerland. Most of the objects are unique and the venues can be personalized to suit the owner's taste. The furniture, lighting, rugs, pictures and artwork are designed by Pascal and his team, with the final products made exclusively in dedicated factories in Romania, by specialized carpenters and blacksmiths.
Location: Cafe Athenaeum 6 Episcopiei Street, opened November 8 – December 16, 2012
Photos courtesy of Pascal Delmotte, Restaurant Diplomat in pictures