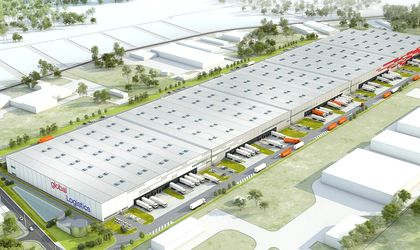 Globalworth, the leader of the office market in Romania and Poland, is launching the Global Logistics brand, which will include all its logistics properties as part of a strategy to strengthen its position on this rapidly-growing segment. The company is also planning to develop a logistics project in Chitila, on the northwestern edge of Bucharest, with an investment of EUR 35.5 million, to be built in partnership with Global Vision. Recently, Globalworth also finalized the first expansion phase of its Timisoara logistics project.
"We continue to see strong demand in the logistics and industrial sectors. Our project Global Logistics Timisoara (the former Timisoara Airport Park) has been very successful and is fully leased by major companies. Our strategy for the upcoming period will continue to focus on strengthening our leadership on the office market, but we also want to grow our presence on the logistics segment with new project, starting with the expansion of Global Logistics Timisoara and the new investment in Chitila in partnership with Global Vision. These investments will be developed through the Global Logistics platform, which will include all the industrial and logistics projects," said Dimitris Raptis, the Deputy CEO and CIO of Globalworth.
Global Logistics Chitila is a "last-mile" type logistics project that will be built on a surface of over 136,000 sqm. The development will be done in several phases, with the first 20,000 sqm scheduled for delivery in the first half of next year.
The expansion of the Timisoara logistics project could add up to 140,000 sqm of logistics spaces and will be developed on a land of more than 30 hectares. The first phase, which has already been finalized, has a surface of 18,000 sqm, and the company is in advanced talks to lease the space.
Globalworth's portfolio also includes the project developed by the company for Groupe Renault, which will be renamed to Global Logistics Pitesti.