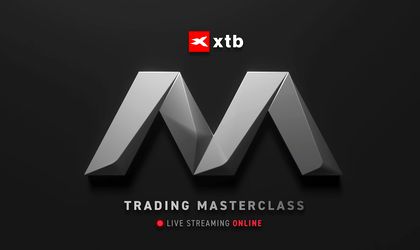 Online commerce, technology companies, cyber security companies, those active in the online field in general, gold, the pharmaceutical and medical sector, FMCG companies, supermarket chains and energy companies present the best opportunities of investments at the end of 2020 and beginning of 2021, according to the opinions formulated by seven of the most well-known specialists in capital markets in Romania. These are: Valentin Nedelcu, Mircea Iliescu, Dan Sulica, Tiberiu Porojan, Bogdan Maioreanu, Ștefan Iordan and Claudiu Cazacu. The 7 will participate on November 10 in the XTB Trading Masterclass event, which will take place LIVE starting at 17:00. Registration on the official page is required to receive the access link by email.
"We are nearing the end of a year that will be written about in history books. So together with people passionate about capital markets we have prepared a unique event, a marathon of LIVE presentations on Facebook, which will provide relevant information about the "stars" of the stock markets, about the outstanding performance on stock exchanges at the end of 2020, about what follows after the US elections and what are the investment opportunities in Shares and ETFs ", explained Irina Cristescu, General Manager of XTB Romania.
Below you can find the most important statements.
Valentin Nedelcu: "Who will be the stars of the end of 2020? Hard to say, but given that we are still in the Pandemic Era and most likely the lockdown measures will expand as we enter the winter, there is a good chance that the technology sector (especially in the US) will continue increase. In the longer term, emerging markets and value stocks have good growth potential as investors reorient to better valued assets. Gold has a good chance of resuming growth. I do not rule out any further corrections in the coming months in all stock markets. Markets are very sensitive to pandemic news (vaccine, lockdown measures, fiscal and monetary stimulus), so in the coming months, most likely, a balanced portfolio of stocks, government bonds in gold and gold is the most right. In the event of corrections, such an allocation will reduce portfolio volatility and provide opportunities to accumulate shares at lower prices through rebalancing."
Mircea Iliescu: "The year 2020 brought significant losses to many companies. Some, especially from Digital and Health, have managed to take advantage of the current context. This is the case of FAANG, Zoom or those who developed solutions for the treatment of COVID-19. Another sector that could provide better protection for investors is basic necessities, where Walmart or Costco have fairly good returns."
Dan Sulica: "Among this year's performers are the big companies in the IT industry and online commerce, but also in the pharmaceutical sector. Thus, in the US, the NASDAQ index quickly recovered its losses in March and then reached new all-time highs, 27% above the value reached earlier this year. The S&P 500 index also performed very well, thanks to its IT companies, as opposed to the Dow Jones index, which does not contain these performers."
Dan Sulica: "Among this year's performers are the big companies in the IT industry and online commerce, but also in the pharmaceutical sector. Thus, in the US, the NASDAQ index quickly recovered its losses in March and then reached new all-time highs, 27% above the value reached earlier this year. And the S&P 500 index has performed very well, also thanks to the IT companies in its composition, unlike the Dow Jones index, which does not contain these performers."
Tiberiu Porojan: "2020 was unique in contemporary history by the amplitude of events that marked the beginning of the year and continues to manifest itself even towards its end. The closure of the economies in te spring have generated waves in all countries of the world, the immediate financial effects being difficult to estimate even now. While the stock markets initially underwent extensive corrections, the immediate return exceeded the estimates of many of us. If the American and Chinese indices are the stars of the year, the same cannot be said about Europe. Gold was also on the rise, reaching $2,000 an ounce in the summer, while oil fell sharply. The end of the year seems like a difficult exercise to analyze, much less to estimate."
Bogdan Maioreanu: "At the time of writing, we are in the middle of two extremely important risk events: the US elections and the COVID-19 pandemic. Both have the potential to raise or collapse financial markets. The US elections will create investment opportunities due to market uncertainties by offering good discounts on shares in both the US and European markets. The same situation can be observed in indices. But the context generated by the elections will be limited in time, whilst the uncertainty fueled by the pandemic will last longer. During this period, there are several industries that deserve attention especially in the context of the pandemic: cybersecurity companies, new technologies that support work from home, including collaboration in Virtual Reality and online commerce. In addition, online needs electricity. That's why I am also lookind at electricity distribution companies and renewable energy producers. Last but not least, an interesting industry is the medical industry: companies that produce vaccines and medicines and those that produce medical equipment."
Ștefan Iordan: "We are nearing the end of a very complicated year, from all points of view. Investing, this year has been a rollercoster both financially and emotionally. As investors, we can look at this market evolution as an opportunity."
Claudiu Cazacu: "The current estimates are heading towards a dense end to the year in terms of major information, in which the digital and technological segment of the markets could keep a relative advantage over the market, for a while, however. In the pharma and health sector, a relevant distinction could be observed for the biotechnology segment. "