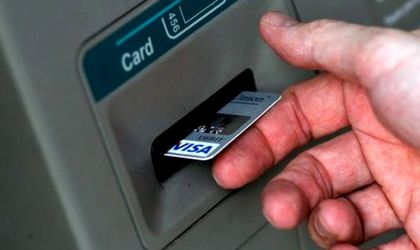 The Romanian banks have reduced their national ATM network by 5.2 percent during the last 18 months, as they cut units and move online large parts of their retail activities, but clients didn't follow the trend and need cash machines in a country where cash payments are still widely used.
According to central bank data consulted by Business Review, the number of automated teller machines (ATM) declined from 11,669 in September 2016 to 11.058 in March 2018.
During the same period, the number of ATM transactions registered in Romania has increased from 61 million to 63 million (quarterly series), while the number of active bank cards in Romania grew by 11.4 percent, to 12.8 million.
Additional data show the need for cash money is increasing in Romania: the total amount of currency in circulation rose by 11.8 percent between June 2017 and June 2018, to RON 65 billion (EUR 14 billion), after years of double-digit growth rates.
Banks in Romania have already cut around 15,000 jobs during the last decade to less than 55,000 employees in present days, after years of massive extension and tough competition for clients.
In the same time, the banks have slashed their networks in Romania in other to cut costs, and many ATM disappeared with the bank units.
Digital strategies
On a global trend, banks in Romania are now investing in IT or even Artificial Intelligence (AI) in order to adapt to the new generations of clients.
A strategy criticized by unions representing bank employees.
"Banks think only to prepare for generation Z – the kids today have higher appetite for this kind of online, distance relationship with banks. But here, in Romania, there is a delay compared to developed markets. I think banks hurried too much to invest in new advanced systems, because real clients in Romania belong to generations X and Y, are rather conservative and want to interact with real bankers," Cristian Mocanu, leader of Impact Union, told Business Review.