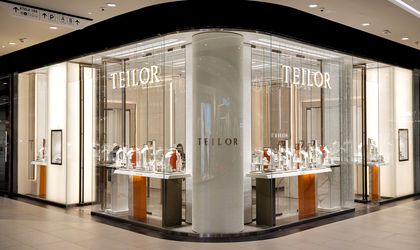 TEILOR Holding S.A., a group of companies that includes the chain of luxury jewelry stores TEILOR, Teilor Invest Exchange and financial lending company Invest Intermed GF IFN, announces the successful closing of the first corporate bonds issuance and raising of a total of 45 million lei from BVB investors. The two private placements, one in euro and another in lei, took place between November 18th and 26th, 2021 and were intermediated by BT Capital Partners and assisted by Cornerstone Communications, TEILOR's Authorized Advisor. Filip & Company assisted Teilor Holding in relation to the issue of corporate bonds.
"TEILOR's story began with a dream of a small business, a dream that started on Teilor street in Pitesti 20 years ago. Over the years, we have always relied on our own capital, supported by bank financing; for me as an entrepreneur, raising capital from BVB investors for financing our international expansion is an exceptional accomplishment, and I would like to thank all our bondholders for their trust and welcome them to TEILOR family. Trends come and go, but one thing that will never change is the importance of care for a customer, quality product, personalized experience, and attention to detail. These values will remain eternally fundamental in our business, and we pledge to continue to bring these values to TEILOR's clients across all the major European markets. Our goal is to become one of Romania's biggest export success stories, and we look forward to accomplishing this goal with our investors alongside us," said Florin Enache, President of the Board and founder of TEILOR Holding.
The corporate bonds issued in lei have a nominal value of 100 lei per bond, 5-years maturity and a fixed interest rate of 8.25%, with half-yearly payment of the coupon. TEILOR Holding estimates that the 140.035 corporate bonds lei-denominated bonds, in the total value of over 14 million lei, will be tradable on the AeRO market of the Bucharest Stock Exchange before the yearend under the symbol TEI26. The euro-denominated corporate bonds have a nominal value of 100 euro per bond, 5-years maturity and a fixed interest rate of 5.75%, payable half-yearly. The 62.700 euro-bonds totaling 6,27 million euro will be tradable on the AeRO market under symbol TEI26E. Both issuances were issued on December 3rd, 2021 and have a maturity date of December 3rd, 2026.
"The bonds issuance marks the beginning of TEILOR Holding's story on the Bucharest Stock Exchange, a story that we are confident will bring a lot of joy and satisfaction to the investors. At BT Capital Partners, we pride ourselves in working with Romanian entrepreneurs who always dare to take their business to the next level. TEILOR is, without a doubt, one of the most interesting Romanian entrepreneurial stories that have already managed to grow its international footprint successfully. We are confident that with the capital raised from investors, TEILOR's development plans will accelerate, supporting the expansion of TEILOR's brand across Europe," said Daniela Secara, CEO at BT Capital Partners, the investment banking and capital markets division of Banca Transilvania, that intermediated TEILOR Holding's private placements.
The corporate bonds of TEILOR Holding are the largest bond issuance in the history of the AeRO market, as well as the first issuance of an entrepreneurial company that had both euro and lei subscription component at the same time, offering investors the opportunity to select a preferred currency. A total of 139 investors, both professional and qualified investors, participated in TEILOR's private placements.
"TEILOR is an exceptional business, Enache, perfectly encompassing Florin and Geanina Enache's vision and dedication to quality, craftsmanship and beauty, fueled by their and their team's unparalleled understanding of luxury and care for the customer. As a devoted TEILOR client, working alongside Florin and the whole executive team of TEILOR Holding on this capital raising has been one of the key highlights of this year. TEILOR has all the ingredients to become Romania's biggest international success story, and we are proud that this will be accomplished with the support offered by the Bucharest Stock Exchange investors. We can't wait to see how TEILOR's story continues from hereon, and we are thrilled to be alongside the management for this exciting ride," said Zuzanna Kurek, founder of Cornerstone Communications, Authorized Advisor to TEILOR Holding.
—
"We would like to thank all the investors for their trust in TEILOR Holding's plans. The success of the private placement, the largest in the history of the AeRO market, is a confirmation of the brand notoriety of TEILOR as well as offers us a validation of our development plans. With the capital raised from the investors, we are extremely well capitalized group, ready to accelerate our development plans abroad for TEILOR and locally for Teilor Invest Exchange and Invest Intermed GF IFN. As we target estimated turnover of 1 billion lei at the end of 2026, we do not exclude further operations on the local stock market," said Mircea Varga, Board Member at TEILOR Holding.
Totaling 45 million lei, the capital raised from investors will be divided between the three businesses and will be used for the accelerated development. Approximately 45% of the capital raised by TEILOR Holding will be directed to TEILOR SRL and will be used for the expansion of the jewelry store network across Romania and Europe, as well as investments in the eCommerce platform. Approximately 33% of the capital will be directed to Invest Intermed GF IFN, to open new agencies and provide the working capital for these locations, as well as investments that will accelerate the increase of the market share in Romania. The rest of the funds, approximately 22% of the issuance, will be directed to Teilor Invest Exchange, capital that will be primarily used to finance the development of the network of agencies across Romania and the necessary working capital.
Filip & Company assisted Teilor Holding in relation to the issue of corporate bonds that drew RON 45 million from the investors on the Bucharest Stock Exchange
On the advisory side, for the capital raising process, TEILOR Holding was assisted by law firm Filip & Company that provided legal assistance, and PwC Romania provided audit services.
"Teilor is one of the most dynamic companies and a Romanian entrepreneurial business built with passion, a lot of work and intense dedication for each client. In our collaboration with them we have seen that every move of the Teilor team is backed up by a strong vision of growth and variation and a deep awareness of the target market tendencies. We are delighted that we could accompany Teilor in another project and we were very pleased to join forces with BT Capital Partners, PwC, and Cornerstone Communications in the multidisciplinary team that assisted the client in this benchmark private placement", says Cristina Filip, managing partner of Filip & Company.

Cristina Filip, managing partner of Filip & Company
The Filip & Company team that assisted Teilor on this project was coordinated by Cristina Filip and included Olga Niță (partner), Roxana Diaconu (senior associate), Simona Ungureanu (associate) and Daria Olteanu (associate).