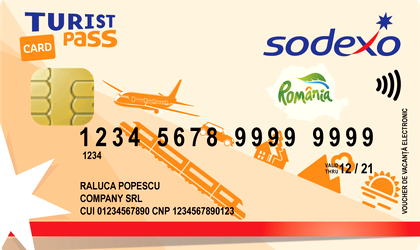 Sodexo has reached 1.5 million customers last year, when it registered an increase of 27 percent in turnover compared to 2016 after investing heavily in digitalization and diversity of products. The company entered the Romanian market 20 years ago and since then it has issued over 3.1 billion vouchers, mainly paper meal vouchers.
In 2017, Sodexo invested in the Romanian start-up Benefit Seven, the largest provider of leisure, sports and wellness subscriptions for Romanian employees, issuer of 7card.
"Sodexo is offering a wide range of benefits in Romania and we are committed to investing in further diversifying our products and services. As Generation Z enters the labor market, the work environment transforms, and our global knowledge of consumer needs allows us to deeply analyze the needs of the employees and their organizations. We are one step ahead and we are helping our customers' needs and design efficient employer branding strategies, which help them meet their business objectives," said Aurelien Sonet, Global CEO Sodexo Benefits and Rewards.
On average, Romanians employees receive, on average, between 1 and 2 extra-salay benefits and the most common are meal and gift vouchers. The employees prefer receiving their vouchers on digital format, because they are easier to use, and they have better control over their spending, thanks to Sodexo Card app, installed by half of Sodexo's customers. The first type of benefit which is offered 100% on digital format is 7card, while 50% of the meal vouchers are on digital format.
Over 10.000 retail partners are based the rural areas
Sodexo consolidated its presence in Romania and developed a wide network of more than 67.000 retail affiliate partners, out of which more than 10.000 are also present in rural areas, ensuring the users' access to products and services no matter their geographical area and catalyzing merchants development.
The meal vouchers and cards are counting for over 80 percent of all cards and vouchers issued by the company and gift vouchers (used for bonuses, usually at Easter and at Christmas) have a weight of around 10 percent from total. The vacation vouchers are on the rise, usually taken by the state-owned companies, and will be issued to around 150,000 people this year.
Sodexo Romania is one of the signatories of the Romanian Diversity Charter
Globally, in all 80 countries where it operates, Sodexo develops a wide range of programs aimed at empowering women, making us a unique organization that implemented good practices policies and initiatives on gender equality that became a reference.
"We are strongly committed to support women development, because we are convinced that when we empower women, we also empower the individuals and communities around them. When women do better, we all do better," declared Aurelien Sonet, Global CEO Sodexo Benefits and Rewards.
Today Sven Marinus and Aurelien Sonet signed The Romanian Diversity Charter, reinforcing the company's' commitment to fostering and promoting a culture of diversity, non-discrimination, inclusion and equity in the work place.
"Sodexo worldwide has a deep commitment to women empowerment and gender equality. In Romania, we continue to be engaged in empowering, working for gender balance and promoting quality of life for everyone. We are all aware that gender-balanced teams are more innovative, productive and successful. We can be proud to say that in Sodexo Romania, women represent 58% of our total number of employees, with a representation of 41% in the management team. When women are empowered, we're all empowered, therefore we have the mission to support women development both in our teams, as well as in the communities where we operate," added Sven Marinus, Country CEO Benefits and Rewards Sodexo in Romania.
The company embraces diversity of age, gender, nationality, culture and personal characteristics and this is a key driver for the strategy growth of the company.
Stop Hunger is a global network of non-profit organizations supported by Sodexo, working for a hunger-free world. One of the projects carried on by Stop Hunger in Romania is "Let's grow healthy", which promotes a healthy lifestyle for children. During the academic year 2017-2018, over 1.900 pupils discovered they should follow in order to grow harmoniously.