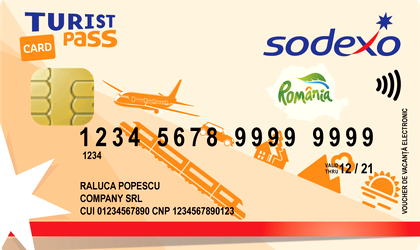 More than one million Romanians used Sodexo's Turist Pass holiday cards and vouchers  in 2018 for holidays in Romania. City breaks have been on high demand, and 34 percent of users have chosen this type of vacation, with Brasov being the preferred destination in the last three months of 2018.
As the Sodexo study shows, the seaside was the main attraction for 31 percent of tourists during the summer season, with Constanta, Mamaia or Eforie Nord as the most popular destinations. Among the tourists' preferences are the mountain and climatic balneo-tourism.
Romanians prefer to manage their own holidays, over 70 percent of holiday card users and holiday vouchers choosing to make their own bookings and pay directly to the chosen hotel or guesthouse. Electronic holiday ticket users say that the most important advantage of the card is that it allows them to pay the exact amount for the accommodation. Furthermore, users have free access to the Sodexo Card app, where they can find personal information about the amount available on the card, the transaction list, the card PIN, and promotions in progress. They can also use the Sodexo map, also available through the app, to identify those payment card locations.
"Holiday vouchers are a way to reward and motivate employees and an essential benefit in the recruitment and retention process. Organizations thus support the work-life balance, giving employees an appreciation and motivation to better engage in the workplace," said Sven Marinus, CEO of Sodexo Romania.
Vouchers and holiday cards are used by private companies and public institutions as employee benefits, deductible for private companies. They can use them to purchase accommodation, meals, transportation, treatment and leisure services or tourist packages for destinations in Romania. Vouchers can also be used to buy air and train tickets. The condition is that these services are part of a tourist package that includes at least one night of accommodation.
Holiday vouchers are available in paper or electronic form and have a validity of 12 months from the date of issue, representing a safe and useful way for planning holidays over the year.