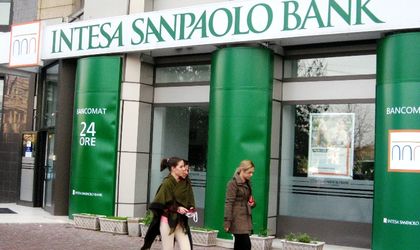 Intesa Sanpaolo Bank, the Romanian subsidiary of Intesa Sanpaolo, top bank in Italy and one of the strongest banking groups in the Euro Zone, has finalized the transfer of business, comprising of assets and liabilities, customers and employees, from Intesa Sanpaolo SPA Torino Bucharest Branch.
Intesa Sanpaolo Bank has now an asset volume of RON 8.83 billion, with a market share of approximately 2 percent, climbing to the 11th position in the Romanian banking system.
The transfer of activity from Intesa Sanpaolo S.P.A Torino Bucharest Branch to Intesa Sanpaolo Bank Romania consolidates the operations of Intesa Sanpaolo Group on the Romanian market, in one single banking entity.
Following the completion of the transfer, the Intesa Sanpaolo SPA Torino Bucharest Branch ceases its activity, while the banking services and products will continue to be offered solely by Intesa Sanpaolo Bank Romania.
Intesa Sanpaolo is among the top banking groups in the Euro Zone, with a market capitalization of EUR 53.1 billion (as of 30th of April 2018) and the leader in Italy in all business areas (retail, corporate, and wealth management). The Group offers its services to 12 million customers through a network of over 4,600 branches well distributed throughout the country with market shares no lower than 12 percent in most Italian regions.
Intesa Sanpaolo has a strategic international presence, with approximately 1,100 branches and 7.7 million customers, including subsidiaries operating in commercial banking in 12 countries in Central Eastern Europe and Middle Eastern and North African areas, and an international network of specialists in support of corporate customers across 25 countries, in particular in the Middle East and North Africa and in those areas where Italian companies are most active, such as the United States, Brazil, Russia, India and China.
In Romania, Intesa Sanpaolo is aiming to focus primarily on the corporate and SME segments. It is financing local and foreign entrepreneurs who seek growth, by giving them the possibility to access not only its local products and services, but also the global ones offered by one of the most solid financial groups in the world.