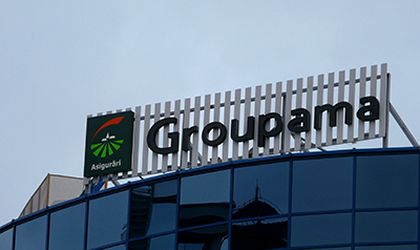 Groupama Insurance said that its revenue from direct written premiums in Romania grew by 11 percent to RON 924 million in 2017 versus the previous year. The profit by IFRS standard was RON 46 million, above the expectations of the insurer's representatives.
The direct written premiums from CASCO were up 10 percent, to RON 394 million, while those from Property and Agriculture grew by 8 percent to RON 209 million.  RCA insurance was down 27 percent to RON 205 million. In Romania, the insurer has 1.1 million clients, including 76,000 companies, and it employs 1,600 people all over the country.
For 2018, the company expects to increase the value of direct written premiums by 10 percent, while the net profit should be around RON 33 million.
One of the most important projects launched by the insurer last year was "Autocontrol" (Selfcontrol) as a pilot, in which the drivers equipped their cars with sensors (called Telematic) that allows Groupama to check their style of driving. If the driver is careful with the car and with the other participants in traffic, he or she can get a deduction up to 40 percent out of the CASCO premium.
"The first drivers that accepted the Telematic system were those who are good drivers all the time and those who think that the premium is too expensive for their car, considering that they are not using the car too often", says Catalin Mihai, deputy general manager of Groupama.
The Telematic system is used largely in Italy, where it was very well received by the drivers, and also in UK, where the drivers under 30 years old are required to have the system on the car.
Groupama Group employs 32,500 in 10 countries and, in 2017, it had a revenue of EUR 13.8 billion and an operational profit of EUR 380 million.
Aurel Dragan