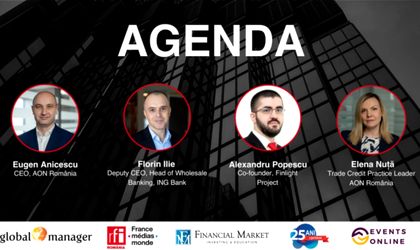 AON Romania, one of the global leaders in insurance brokerage, is organizing on May 10 the online event "Commercial  Credit. Reality vs. Image". The webinar will bring together specialists in the financial and corporate environment to discuss the economic perspectives directly influencing the business environment and how companies can use the market context, data analysis, and the reality on the ground to adopt optimal business decisions.
This webinar is the first edition of a series of four events that will take place in 2023 on topics as diverse as Commercial Credit, Property Insurance, Agriculture, and Employee Benefits.
In recent years, despite a context marked by successive crises, companies' liquidity has been massively supported due to the financial support and stimulation programs implemented at national and European levels. This has determined positive payment behavior in the business environment. The year 2023 may bring the normalization of the business environment and payment behavior as companies' liquidity begins to be affected by inflation, capping consumption, and overall increased costs. Cost elements are starting to put pressure on the operational activity of companies, creating the conditions for higher volatility and the need for companies to face more difficult choices. Webinar "Commercial Credit. Reality vs. Image" aims to map the essential elements in commercial risk optimization through coherent risk decisions and potentially through risk transfer.
"This year, the effects of inflation are being felt, even with some delay. The consensus of players in the commercial credit segment indicates expectations of normalization of payment behavior, characterized by higher volatility and an increase in insolvencies. Through this webinar, we want to bring practical information about current developments so that companies are aware of the best ways to manage their risk, regardless of the economic context", says Eugen Anicescu, CEO of AON.
Eugen Anicescu will be a speaker at the event alongside Florin Ilie – Deputy CEO and Head of Wholesale Banking of ING Romania, Alexandru Popescu – Co-founder of Finlight Project, and Elena Nuță – Trade Credit Practice Leader of AON Romania. They will address economic and sectoral evolution topics in recent years, mitigating business risks and securing commercial credit as a growth tool.
The event will take place online, on the Zoom platform, and is intended for companies with over 10 million EURO turnover. At the webinar, participants from company management are expected to perform the functions of CFO, Risk Manager, Credit Manager, and General Director.
Registration is done by emailing the address aon.romania@aon.ro, after which the login data will be sent.