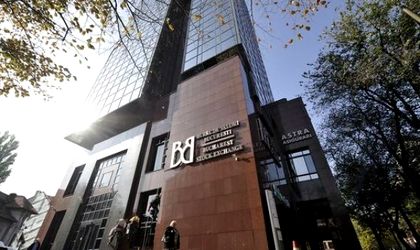 The capitalization of the companies listed on the regulated market of the Bucharest Stock Exchange (BVB) increased by more than 2 percent this week, up to RON 171.96 billion, and the total value of shares transactions increased by almost 54 percent, totaling RON  222.81 million lei.
Last week, there were 11,134 transactions, compared to 6,425 transactions in the week before. The best trading day was Wednesday, September 18, when there were 2,019 shares traded in total value of RON  74.64 million.
The shares of Banca Transilvania were the most traded this week, the exchanges on these securities being RON 47.44 million, followed by Romgaz (RON 33.70 million), Fondul Proprietatea (RON 28.57 million), BRD – Groupe Societe Generale (RON 27.73 million) and OMV Petrom (RON 16.07 million).
The highest increase in value, on the main segment of the BVB, was recorded the shares of IAR Brasov, with an increase of 16.28 percent, Ropharma (up 11.33 percent) and Oil Terminal (up 11.20 percent).
On the other hand, the highest decrease in value were recorded by the titles Fine Mechanics, which lost 14.52 percent, COMCM Constanta (down 7.07 percent) and the Industrial Electrocontact Group (down 4.04 percent).
As for the Alternative Trading System, this week saw a turnover of RON 1.70 million, down from RON 4.03 million in the previous period. The total number of exchanges was 692, compared to 909 a week ago. The capitalization of the companies on the ATS rose to RON 9.08 billion.
Since the beginning of this year, on all the markets managed by the Bucharest Stock Exchange (BVB), 429.847 transactions totaling RON 7.86 billion were performed, the daily trading average being RON 43.47 million.