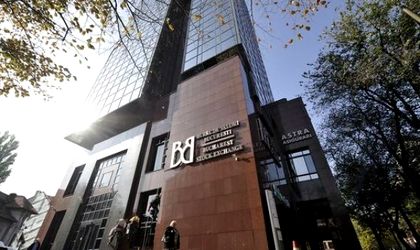 The market capitalization of companies listed on the Bucharest Stock Exchange (BVB) went down 13 percent over the past year compared to 2017, to RON 142.98 billion, the decrease being recorded in December, after the Government announced the new fiscal measures, including the taxation of bank assets and the capping of gas prices.
According to the data published by the BVB, last year were 249 trading days with 536,222 transactions closed and 8.29 billion shares traded. The total value traded on the regulated market reached RON 11.45 billion, down 3.33 percent compared to the previous year, and the average daily value dropped from RON 47.79 million in 2017 to RON 46.01 million. The number of issuing companies remained unchanged in 2018, to 87, but the number of intermediaries dropped to 29 from 34.
In December, on the regulated market there were 62,179 transactions, almost twice as many as in November, and the total trading value increased 2.3 times to RON 1.986 billion. In the last month of 2018 there were trades of 1.11 billion shares compared to 603.92 million in the previous month.
In 2018, the most traded shares were those of Transilvania Bank. The value of transactions with these securities exceeded RON 467.43 million, but the shares depreciated compared to 2017 by 15.76 percent. BRD-Groupe Societe Generale ranked second with exchanges worth RON 155.73 million, while the shares of the bank dropped last year by 18.92 percent.
On the third place was Romgaz with RON 133.12 million, followed by OMV Petrom with RON 105.73 million and Fondul Proprietatea with RON 71.08 million. OMV Petrom shares declined 22.78 percent, those of Romgaz with 19.52 percent and those of Fondul Proprietatea with 6.16 percent.
Regarding the alternative trading system, during the analyzed period there was a turnover of RON 215.171 million, an increase of 30 percent compared to the value recorded in the previous year. The total number of transactions was 30,051, with 240.37 million shares traded. ATS capitalization rose 19 percent to RON 7.32 billion.