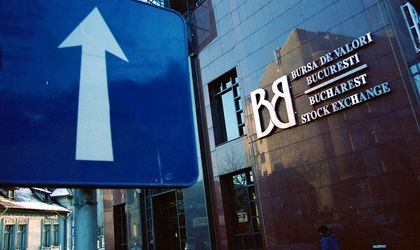 The fall that the price of OMV Petrom shares registered in the first months of this year on Bucharest Stock Exchange (BVB) had pushed the company on the top of the PER index (price to earnings ratio) with a 5 points, meaning that an investment in the shares would need 5 years to regain the investment.
The calculations made by BVB in the monthly report and nu the analysts at BT Equity Research show that OMV Petrom (symbol: SNP) are most profitable among the blue-chips listed on the stock exchange. PER is an index that takes into consideration the price of the share to the profit of the company and calculates how many years are necessary to recover the investment if the net profit is distributed entirely to the shareholders.
SNP has an index of 5, smaller than the one Banca Romana de Dezvoltare – Group Societe Generale (symbol: BRD) has an index of 5.9. BRD had also experience a fall in the price at the beginning of the year, following the adoption of OUG 114, just as Banca Transilvania (symbol: BT) did; BT has an PER index of 7.7.
Among other financial companies the 'financial investment institutions' (SIF) have different results. SIF Transilvania (SIF3) is on top with an index of 8.3, followed by SIF Oltenia (SIF5) with 12.7, SIF Banat-Crisana (SIF1) with 13.9, SIF Muntenia (SIF4) with 22.4 and SIF Moldova (SIF2) with 24.1. A better investment is seems to be in Fondul Proprietatea (symbol FP) shares that has an index of only 7.7.
According to the general accepted interpretations of PER, any value under 10 is considered to be an investment recommendation. Of course, it is not a good idea to base an investment decision only in one index, but it can be taken into consideration.
In the energy sector, Romgaz (symbol: SNG), the second biggest company listed on BVB after OMV Petrom on the internal market, has an index of 8.8 points. The best placed company in this sector is Nuclearelectrica (symbol: SNN) with 7.5 points, while Transgaz (symbol: TGN) has 7.9 points. Transelectrica doesn't look so profitable right now, with an index of 17.1.
From other industries, ALRO Slatina (symbol: ALRO) has an index of 5.08. Biofarm (BIO) of 8.75 and Antibiotice (ATB) of 9.62, according to BVB last report.
The BVB main indexes has ended March on the positive side; BET, the main index of the market, that follows blue-chips evolution, recorded a growth of 4.82 percent last month compared to February, 2019, and BET-XT registered a plus of 4.21 percent.
The energy index BET-NG recorded a growth of 4 percent, while the BET-TR (total return, that includes the dividends) registered an increase of 4.79 percent.