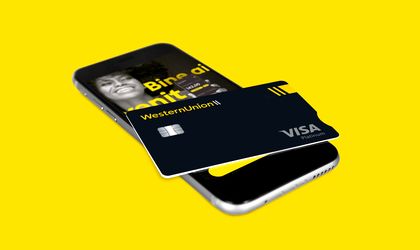 Western Union is marking a year since the launch of its integrated digital banking and international money transfer app in Romania, with a series of new consumer offers.
In Romania and in other three European markets, Germany, Poland and Italy, about 150,000 consumers, all of them aspiring to do better for themselves and their loved ones, are covering their financial needs through Western Union's digital banking app, a product specifically designed to support people as they move internationally for work or relocation.
The new offers* for consumers in Romania include:
6% interest for premium customers, and 2% "interest for standard customers, paid for balances in the Savings Account of up to 17,500 EURs.
Up to 250 RON bonus for customers that deposit 2000 RON monthly and spend 1000 RON monthly during 6 months after registration.
Customers that refer a friend will earn a 75 RON bonus after their first purchase with the Digital Banking card, or international money transfer worth at least 50 RON.
1 free month for subscription services from selected vendors.
Users of the app already benefit from being able to:
Set up a multicurrency digital bank current and savings account.
Send and receive money internationally, instantly, and fee-free with other Western Union digital banking account holders.
Spend their money, as they choose, using their Visa platinum debit card.
Do free transfers between Western Union digital bank customers.
What differentiates Western Union's digital banking app from other similar apps is how the app's customers can benefit from Western Union's omni-channel experience when they send or receive money. For example, they can send money, in multiple currencies, to family and loves ones around the world through the app and have their funds paid out in cash in hundreds of thousands of retail locations around the world, or directly in a card, mobile wallet, or bank account, often in real time**. Equally, they can receive money sent through retail locations, or Western Union's digital platforms.
"I am delighted that Romanian consumers have shown their trust in our digital banking app. A year since its launch, it is really changing the way Romanians are saving, spending and move their money, as well as how they connect to family and friends across the world. We are looking forward to launching more advantageous offers for consumers in Romania, adding value in what is a difficult economic period for everyone", said Denisa Mateescu, Head of Eastern Europe for Western Union.
The app is offered by the Western Union International Bank GmbH, headquartered in Vienna, Austria. All balances are protected by the Austrian Deposit Protection Schemes (Einlagensicherung) up to 100.000 Euros (or equivalent in other currencies) per depositor.
* All terms and conditions for the offers can be found at https://www.westernunion.com/ro/ro/wuplus.html