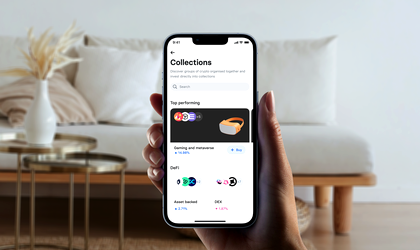 Revolut, the global financial superapp with more than 28 million customers worldwide and 2.7 million in Romania, is taking another step forward toward its mission of bringing customers the best financial products and services to manage their money.
Revolut is on a mission to build the ultimate crypto offering, with regular features, products, and courses being added to the financial superapp. Today, Revolut enables the investment in Crypto Collections, for the UK and EEA customers, a new way to experience and trade tokens.
What are Crypto Collections ?
Crypto Collections groups the 100+ tokens available in our app into Collections based on the underlying technology and use case for the token. Customers also have the ability to buy an entire Collection and spread their investment evenly among all the tokens in the Collection. Examples of Crypto Collections are Metaverse, NFTs, Layer 1 and Defi. A customer can also track the collection as a whole, in an aggregated view.
The new feature, building on the back of the crypto-education tool 'Learn & Earn', prompts users to learn and focus on the underlying technology behind each token, rather than the 'hype' and 'fomo' of the crypto market.
Narmin Ibadullayeva, Product Owner Crypto at Revolut, said:
"With Collections, users can discover new tokens based on the underlying technology and understand more about what the protocol behind the token does. It also allows users to select the areas they are interested in and spread their investment over a number of tokens, instead of having to pick individual tokens. For example, you might think that a certain domain is going to play an important role in the future, but you don't know how to act on this theory. With Crypto Collections, you can easily see all tokens that are related to that area, as well as spread your investment across all the related tokens on Revolut".
The feature is available for all Revolut plans. There is a minimum investment amount of £1 (6 RON) per token in the collection for Standard users.
How to buy and sell cryptocurrencies on Revolut?
Revolut Ltd, a company established in the UK, offers a wide range of financial products through its financial superapp, and crypto is an increasingly popular feature. There are several ways to buy and sell crypto on Revolut. Customers can set up a stop or limit order so they don't have to time the market or use the Recurring Buy feature to average out volatility. Customers can also round up any spare change in a cryptocurrency of their choice.
As part of our goal to be the safest place to trade, use and learn about crypto, Revolut regularly communicates with customers that crypto tokens are volatile assets and prices can change quickly. Revolut believes in widening access to crypto and also recognises that it may not be appropriate for everyone, so the company encourages its customers to research the various cryptocurrencies and the risks and opportunities before buying or selling. Customers should review independent sources and learn the differences between tokens as well as consider their circumstances when buying or selling crypto. Cryptocurrencies are unregulated. Funds are not protected and their price is extremely volatile. Tax could be payable on gains. Transaction and network fees payable.