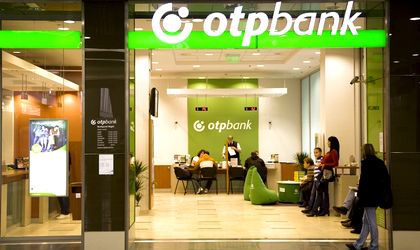 OTP Bank Romania announced a consolidated after-tax profit of RON 19.7 million in the first half of 2018. 
According to the report published in Budapest, which presents the consolidated result adjusted in accordance with the Group's reporting standards, OTP Bank Romania recorded a consolidated after-tax profit of RON 19.7 million (HUF 1.4 billion), up by 59 percent higher compared to the base period.
The FX-adjusted performing loan volumes increased with 12 percent year-on-year, supported by robust consumer and corporate lending. It was mainly the corporate segment being the engine of growth, with 23 percent volume increase compared to 2017. The retail business also contributed to the growth with an 8 percent year-on-year increase. As for new loan disbursements, in the first semester of 2018 mortgages improved by 11 percent, whereas the cash loan sales grew by 15 percent. The expansion of the performing loan portfolio had a positive impact on quarterly interest revenues, whereas the net interest margin remained stable.
On the first semester's total risk costs amounted RON 37.2 million (HUF 2.58 billion), dropping by 41 percent compared to the same period of 2017 due to the change in the 2Q provisioning.
FX-adjusted deposit volumes registered a 8 percent increase compared to the first semester of 2017 and by 6 percent year to date. The growth was supported by retail (+3 percent YTD) and especially corporate (14 percent YTD) inflows. The total assets of the bank reached RON 10 bln (HUF 711 bln.), a 9 percent YDT increase.
During the first semester of 2018, the volume of non-performing loans continued to decline by 42 percent year over year. RON 250 mn (HUF 17,6 bn.) problem loans were sold or written off. The DPD90+ ratio declined to 9.3 percent from 16,6 percent reached at H1 2017. The volume of Stage 3 loans under IFRS 9 dropped quarterly by 13,3 percent and amounted to RON 1,094 million (HUF 77 billion) at the end of the second quarter.
According to local regulation, the Bank's standalone total assets posted RON 9,9 billion, a net profit after tax of RON 8,5 million, and the capital adequacy ratio slightly decreased to 17,06 percent, by 59.bps compared to the previous quarter.
OTP Group has registered in the first half of 2018 an adjusted after-tax profit of RON 2,2 billion (EUR 492 million, HUF 154.6billion), with y-o-y growth of 16 percent, while the profit contribution of foreign subsidiaries improved substantially, by 39 percent in H1 2018, compared to 33 percent in H1 2017.