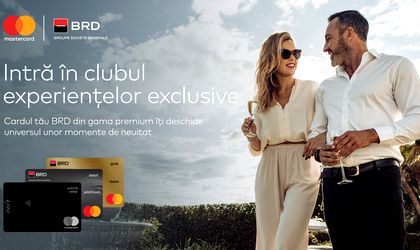 Mastercard and BRD announce the launch of a collection of experiences and benefits from categories such as art and culture, sports, gastronomy, entertainment, travel or shopping, dedicated exclusively to Mastercard BRD Premium cardholders: Noir (World Elite), Platinum or Gold available through the platform Priceless.com/BRD.
"Mastercard facilitates safe, simple and fast payments and open up a multitude of possibilities for consumers as well as our issuing partners. We are happy that now, together with BRD, we can bring exclusive and carefully selected experiences and benefits to Premium card holders in Romania, so that they can enjoy truly memorable moments both in the country and around the world. This initiative is also a way to strenghten Mastercard's commitment to be constantly connected with consumers' wishes and to exceed their expectations, through the priceless experiences offered," said Cosmin Vladimirescu, Country Manager Mastercard Romania and Croatia.
—
"We are happy to take our collaboration with Mastercard to the next level for the benefit of our clients, adding something extra to the experience offered to Mastercard BRD Premium card holders. We've always wanted to integrate everyday life – whether it's shopping, traveling, dining – into a single, complete experience alongside the cards issued as part of our partnership with Mastercard, and the Priceless platform now gives us the opportunity to do this for the first time on the Romanian market", said Anca Nuțiu, Executive Director, Retail Customers Value Management, BRD Groupe Société Générale.
To claim experiences and offers, Mastercard BRD Premium cardholders must go to Priceless.com/BRD and create their user account. Once registered on the platform, they will be able to access benefits grouped into five categories:
The BRD Exclusive Experiences category includes experiences that Mastercard BRD Premium card holders can access for free. The current selection includes original fine dining gastronomic experiences, offered by KANÉ, a restaurant that explores the new Romanian cuisine, The Brunch Affair, an exclusive concept of parties, which take place in the hippest restaurants and the most unconventional and cool locations, and Singureni Manor, a unique destination that combines the relaxation of being in the middle of nature with absolute comfort, the selection following to be extended in the future at national level.
The BRD Benefits category includes access to the Business Lounges from Cluj-Napoca, Sibiu and Timișoara airports, as well as 10% cashback on accommodation reservations for any of the 85.000 international destinations made on Booking.com.
The Local Benefits category lists advantages such as access to the Mastercard Business Lounges from Henri Coandă International Airport and Vienna International Airport and free insurance for purchases from any online store registered in the European Union, Great Britain, Norway or Switzerland.
The Global Experiences section includes a variety of experiences across the world and will be constantly expanded with new proposals of relevant destinations for Romanian customers.
And the European Privileges Program includes offers from international retailers from categories such as beauty, gifts, clothing, accessories and more.
Mastercard BRD Premium cardholders are invited on the platform to enjoy the exclusive experiences, offers and benefits available. At the same time, BRD customers and consumers who wish to have access to these advantages can open an account and request an eligible Premium card.