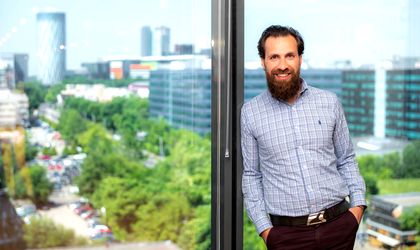 Dental health should be a priority for everyone, but quite a few Romanians tend to postpone visits to the dentist. Half of Romanians say they have never been to the dentist, either because they don't think they need it, or because they don't have the money, according to the data of a Kantar study carried out at the beginning of this year.
In this context, the Buy Now Pay Later (BNPL) alternative payment tool offered by tbi bank for dental services in Dr. Leahu Dental Clinics is an extremely effective and affordable solution for a healthy smile.
The Buy Now, Pay Later payment solution allows consumers to split the total cost of any dental procedure into installments with no interest or fees and is an excellent tool that supports social inclusion. In this way, customers can get the dental services they need in interest-free installments, with a much lower impact on their own budget. The approval process is very quick, needing only a few minutes, and can take place right in the clinic.
This financing tool is accessible both for routine or preventive procedures, as well as for more complex and implicitly expensive ones, given that some dental work can cost more than 3,000 euros. Paying off such services in full, without financial pressure, can be a challenge for anyone, but a smart installment system could mean a monthly cost of around 150 euros, on average, for a period of 24 months.
"We continue the strategic partnership between tbi and Dr. Leahu Dental Clinics, signed two years ago, and we always offer customers the most affordable solutions for their smile. Buy Now, Pay Later differentiates in the market by being able to provide a value service without major effects on monthly budgets. With the option of paying in monthly installments without interest, we alleviate the financial burden that customers may feel and make it easier for them to access the medical care they need. And at the same time, we also help medical service providers to increase their income by removing the price barrier for their patients", says Ionuț Sabadac, VP Merchant Solutions, tbi bank.
Among Romanians who go to the dentist more often, about 8% go once a month or even more frequently, and the budget allocated to dental services is 17% higher this year, reaching an annual average of approximately 2,000 lei, according to the Kantar study. The most common preventive treatments are consultation, radiography and professional hygiene procedures.
"Although we have been educating Romanian patients for many years, stressing the importance of prevention and the fact that general health starts with the teeth, and immunity is significantly influenced by access to dental services, studies and reality show us that the second major reason why they do not go to the dentist is the lack of resources, mainly money. We are delighted to be partnering with tbi bank, because through the effective financing tool it provides, it offers a practical solution to a problem that a third of Romanians mention. Moreover, it brings to the fore a different perspective, that Romanians could save years of dental health by financing and accessing dental services now, when the need is critical, rather than later", said Dr. Ionuț Leahu, founder and CEO of the Dr. Leahu Dental Clinic Network.