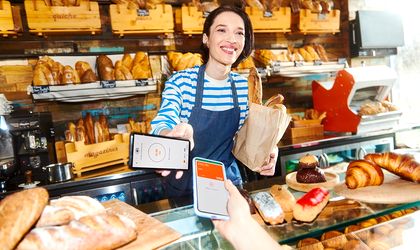 ING Bank Romania has launched ING SoftPOS, the app that turns Android mobile devices into a POS that accepts contactless payments done by card, phone or any other payment accessories equipped with NFC technology.
ING SoftPOS offers all the functionalities of a classic POS and is suitable for any type of business. Merchants can accept payments whenever and wherever their smartphone's internet connection allows.
"ING SoftPOS is a modern and practical alternative, especially for entrepreneurs who need mobility to manage and grow their business. They will no longer need payment terminals, as all transactions can be carried out via mobile phone. In addition, they will benefit from reduced costs and zero fees for rental or management. Entrepreneurs are people on the move and rely more and more on mobile devices to manage their businesses. ING SoftPOS complements our ecosystem of payment solutions and reaffirms our strategy of offering digital solutions with a high level of security, available anywhere, anytime," explained Crina Nicolae, Director Card Development at ING Bank Romania.
How does ING SoftPOS work?
Payments via ING SoftPOS are simple and are quickly processed. The merchant enters the payment amount and the buyer brings their mobile phone or card close to their device. The app processes the payment and the merchant receives the paperless, electronic payment confirmation, which can be sent to the customer via QR code or by email, if they wish.
With ING SoftPOS, the merchant has 24/24 real-time access to payment history, sales progress, user management and report extraction.
High level of security for merchants and customers with ING SoftPOS
Like all ING payment solutions, ING SoftPOS meets the highest security standards. Accordingly, ING provides the solution through two separate apps: ING SoftPOS – certified CPoC (Contactless Payments on COTS) and ING SoftPOS PIN PAD – an app dedicated to capturing and encrypting payer PINs, certified by Visa and Mastercard accredited institutions. The two-step solution provides security for merchants and customers, but does not complicate the payment experience for the customer.
ING SoftPOS can be obtained quickly, even by merchants who are not already ING customers.
"We are pleased that, together with our partners at ING Bank Romania, we are supporting SMEs and consumers with an innovative payment solution that allows contactless payments to be made without the need for additional equipment. The ING SoftPOS app complies with strict payment industry security standards, is easy to install and can be successfully used in a variety of businesses, from payment on delivery in online commerce, food markets, fairs, cafes, restaurants, to small street merchants, shows or sporting events. Not only does it make the merchant's life simpler, but they can increase their receipts because they are no longer restricted to a certain location and can accept digital payments anywhere and anytime. " said Elena Ungureanu, Country Manager Romania at Visa

"Reducing queues, especially at peak times, paying on delivery, accepting card payments at sports or entertainment events are some of the benefits that such a solution offers, thereby expanding the areas of use of contactless payments and supporting financial inclusion. The solution is developed specifically for the needs of small businesses, who will find immediate benefits by reducing the cost of maintenance and easily accepting contactless payments using a simple smartphone. At the same time, for cardholders, contactless payment is the most convenient payment method, due to the high level of security as well as the simple and fast way to make it. ", said Cosmin Vladimirescu, Country Manager Mastercard Romania and Croatia
The ING SoftPOS application was developed in partnership with Payten Services Romania and SoftPos sp z o.o. and is supported by Visa and Mastercard