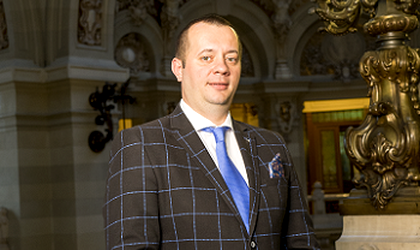 CEC Bank, the longstadning Romanian financial institution, launches the new "Welcome" package, through which clients can now open new 100% online accounts, even if they are in Romania or abroad.
The "Welcome" package includes a checking account, the issuing of a debit card, and access to Mobile Banking. The checking account and accessing Mobile Banking will be instantly activated, after completing the online register process, while the debit card will be issued and sent through mail at the mentioned address.
"The expansion of services and of our client base, including for remote clients from Romania or abroad, is part of CEC Bank's business plan, agreed upon with the European Commission during the process of increasing capital. Opening remote accounts, 100% online, without the need of going to an actual bank and with no paperwork used, is also part of the solutions we offer to those for who time is a very valuable commodity." Says Bogdan Neacsu, CEC Bank CEO & President of the Executive Committee.
Top open a 100% online account, clients need to access the dedicated page on cec.ro and to complete te registration process in order to activate the services. To complete the registration one must have a valid Romanian ID card, a mobile phone or a computer with a video camera and internet connection.
The banking services can be accessed by clients in Romania, as well as those abroad.
To open remote accounts, CEC Bank relies on AI algorithms for both facial and ID card recognition, but also on human verification, done by the bank's employees during a short video call. The launch of remote banking services required the development of the bank's IT platform, using both internal resources and external specialised services, such as solutions for data and facial recognition. Also, for the online register process, CEC Bank worked with the Romanian start-up, FintechOS.
Management fees are zero for clients that have a monthly turnover of at least LEI 700, a LEI 5.9 fee being applied otherwise.