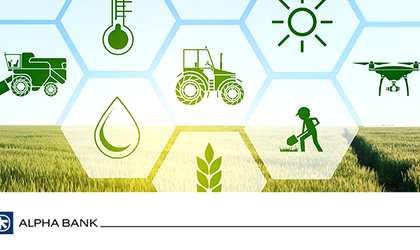 Alpha Bank Romania reaffirms its support to the agricultural sector by signing together with the Agency for Financing Rural Investments (AFIR) a collaboration protocol to accelerate the process of absorption of European funds allocated under the National Rural Development Program for the transition period 2021-2022.
"We support the implementation of projects with a European fund component and investments in agriculture, as we believe in the development potential of local agribusiness. Financing the entrepreneurial spirit in rural areas is a key investment for the sustainable future of Romanian agriculture and offers the chance of a long-term competitive development. The agricultural sector is a strategic area for both Romania and Alpha Bank Romania, and we have the experience and expertise to support it, including through the partnership with AFIR", said Dragoș Drăghici, Director of the SME Division, Alpha Bank Romania.
Under the protocol concluded with AFIR, the Bank provides farmers and investors in rural areas premium financing solutions, offering eligible beneficiaries loans to cover their own contributions and support non-eligible expenses (including VAT), bridge loans for financing and settling interim payment installments or letters of guarantee for the reimbursement of the advance payment.
Apart from AFIR's partnership, Alpha Bank Romania actively supports the financing needs in the area, through loans offered based on APIA subsidies, and by participating in the Agro IMM Invest sub-program.
Furthermore, the Bank also provides agriculture entrepreneurs with other short, medium and long-term financing facilities for working capital and investments, including financial leasing.