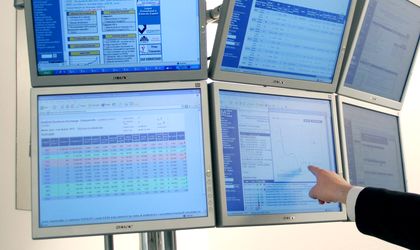 The stock closed sharply down on Wednesday's stock market indices, depreciations ranging between 5.69 percent on the SIF's BET-FI index and 11.52 percent on the Romanian Traded Index (ROTX) amid the announcement of the introduction of new taxes that would target the banking sector and energy companies. Today's session opened on green, with a slight appreciation on indexes, but at the middle of the day they were again on the red side, with losses of over 3 percent.
The total value of exchanges made after the first 30 minutes since the opening of the session was RON 8.5 million (EUR 1.825.533).
The BET index was down 3.7 percent, BET-FI was down 3.4 percent. BETPlus was down 3.6 percent and BET-XT at minus 3.8 percent.
Banca Transilvania shares were the most traded on the Bucharest Stock Exchange on Thursday, and were up 1.28 percent, but Romgaz fell 7.3 percent and BRD Groupe Societe Generale was down 0.36 percent.