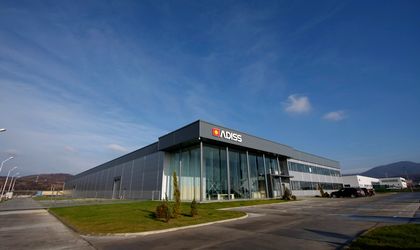 Business Review continues its #MakeItHappen campaign to promote Romanian entrepreneurship. So far, we have presented dozens of inspirational stories about Romanians who transformed their passions, hobbies, and knowledge into successful businesses. We've revealed the stories behind domestic businesses, regardless of their sizes and the sectors to which they belong, because we wanted to highlight the diversity and creativity of the Romanian business environment. Through this campaign, Business Review and CEC Bank are strengthening their commitment to be the primary source for information and financing for Romanian entrepreneurial initiatives. The campaign continues with the story of Adiss, a business inherited from father to son that offers integrated solutions for treating wastewater.
27 years ago, two engineers from Baia Mare, Cornel Raț and Damian Constantin, together with Ioan Simijdean, an economist, started a planning company. They had zero financial resources, only a full commitment. From the beginning, they strongly believed that water management will become a critical skill of the 21st century, so they concentrated on developing solutions for planning, technology and detail engineering, production, equipment delivery, assembly and service, for treating residential and industrial wastewater. The company dedicated itself from the start to building and maintaining the water treatment facilities of the community it serves.
Cornel Raț is the one who grew the business, making it a leader in its activity sector. He had the intuition and skill to form new leaders within the organization. Sadly, Cornel Raț passed away in 2010, leaving the company to his son, Cristian Raț, assisted by an extremely dedicated management team.
Cristian Raț – Adiss Owner

"Together with my father, we chose to contribute to a sustainable future for Romanian communities, by resolving water supply problems. We understand that we are responsible for one of the most important resources for mankind." Said Cristian Raț, who now owns Adiss.
According to him, the company grew in an organic manner, thanks to a long term vision in which the profit was reinvested each year.
"An important step was made in 2009 when we build the 30,000 square meters ADISS Tech Complex, which allows the company to design its products in the most modern conditions in Romania. The investment was realized with the support of CEC Bank. Today, Adiss Baia Mare has built around 300 water treatment facilities, which serve 700 communities (2.5 million people) and approximately 40,000,000 liters of water are treated daily through the stations built by Adiss."
Ciprian Coasa – Technical Director at Adiss
What makes the difference
Cristian Raț says that on the market, Addis distinguishes itself through offering integrated services, from planning to construction and equipment.
"Unlike our competitors, we can offer everything in terms of wastewater treatment, starting from technology. We act on the market in many roles: planner, processing equipment supplier, producer, consultant, general entrepreneur, or post-sale service provider. Moreover, the organizational structure at Adiss is different from most Romanian companies. The management team has full power of decision, without requiring my approval." Explains the businessman.
Dancos Eniko – General Director at Adiss
For the future, the company will continue on a strategy of sustainability. "We will concentrate on perfecting our basic processes, but also on expanding our wastewater products and services base." He adds. Also, the company wants to develop a partnership with CEC Bank for 2020, the second stage of a real-estate project called ADISS Industrial Eco Park, which will continue to offer solutions for specific customer needs.
Erdely Csaba – Commercial Director at Adiss
Adiss' accomplishments:
The first private company in Romania specialized in planning, producing, and installing wastewater treatment stations and equipment.
The only company in Romania that produces compact wastewater treatment stations with its own technology.
The first company to open up links between Romanian experts and companies in the EU.