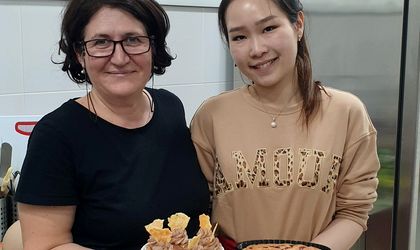 This summer, Business Review launched the #makeithappen campaign to promote Romanian entrepreneurship. Throughout 2018, Business Review has presented dozens of inspirational stories about Romanians who transformed their passions, hobbies and knowledge into successful businesses. We've revealed the stories behind domestic businesses, regardless of their sizes and the sectors they belong to, because we wanted to highlight the diversity and creativity of the Romanian business environment. Through this campaign, Business Review and CEC Bank are strengthening their commitment to be the primary source for information and financing for Romanian entrepreneurial initiatives.
The #makeithappen campaign continues with the story of the Atelierul cu Bunatati, which combines the skills of local bakers with Belgian or French recipes.
The entrepreneur whose story Business Review chose to publish today is clear proof that entrepreneurship is ageless. At 51 years old, having been an employee for more than 20 years, as an economist in different companies, Anca Biro took a leap of faith and opened her own business, at the end of this year. "For a long time I thought that having a good job provides much more stability and peace. While that may be the case, it doesn't give you the same satisfaction," Anca explains.
She had been thinking about the idea for a couple of years before getting enough courage to take action. The mother of a 25-year-old young man says that cooking had become a passion of hers for a long time, but she could only dream about making a living out of it. "When the Start-Up Nation programme was launched, I knew that it was the opportunity that would help me turn my dream into reality," she says.
When your life partner becomes your business partner
Anca says she wouldn't have made it without her husband's support and involvement.
He is the one who wrote the business plan and helped her throughout the process. Although the process required time and effort, her portfolio was approved, and CEC Bank is the credit institution that offered the EUR 40,000 financing in the state's name.
Ambitious and perfectionist, before the project was approved, Anca attended all the baking courses she could find, investing a large part of her savings in this activity. "Over the course of a few months I took part in several courses and practiced along Belgian and French bakers. That's where I learned to create my own recipes," she recounts.
"For a long time I thought that having a good job provides much more stability and peace. While that may be the case, it doesn't give you the same satisfaction"
She wanted to think out of the box and managed to do so. Today, with five employees, hers is the only bakery in Targu Mures to offer customers products inspired by international recipes. "I believe that we make the best chocolate mousse and cheesecake in town," she boasts.
Since she's a very demanding person, as her own husband describes her, she didn't cut corners on quality and made significant investments in equipment and technology. She invested another EUR 60,000 from family savings to buy equipment.
Although she wouldn't dare dream bigger in the beginning, just two months after the bakery opened and she got a taste of entrepreneurship, her expansion plans have started to take shape, even though the business has not yet made a profit. "In the second part of next year, we'll open another lab and bakery in Targu Mures. Our estimations show that the business will start to turn a profit in April of next year," Anca explained.