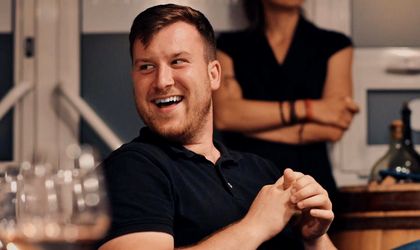 This summer, Business Review launched the #makeithappen campaign to promote Romanian entrepreneurship. Throughout 2018, Business Review has presented dozens of inspirational stories about Romanians who transformed their passions, hobbies and knowledge into successful businesses. We've revealed the stories behind domestic businesses, regardless of their sizes and the sectors they belong to, because we wanted to highlight the diversity and creativity of the Romanian business environment. Through this campaign, Business Review and CEC Bank are strengthening their commitment to be the primary source for information and financing for Romanian entrepreneurial initiatives.
#makeithappen continues with the story of TETO, a café chain that was launched just one month ago.
A year ago,  two young students, Dan Posea and Alexandru Postoaca, created a new café concept with which they want to conquer the entire country. They've opened their first units in Bucharest, and plan to open new cafés in Iasi, Cluj, Timisoara and Sibiu. Their desire to succeed as entrepreneurs, their vision and determination were the assets that helped them start out. "We knew exactly how the concept should look, what equipment we needed to buy and what products we wanted to sell," said Dan Posea in an interview with Business Review.
Startup TETO was born in April 2018, but due to some delays in the design and layout of the unit, the first café started its activity in November 2018. Until this happened, the two young men were active on the market through a mobile bar.
Initially, the two entrepreneurs wanted to develop this startup in containers, but they quickly discovered that a fixed location would be much less costly.
"Our company is a coffee shop selling specialty coffee and tea and homemade cakes, and we will soon also introduce our own fresh food and drinks range," Dan Posea explains. "Our customers are mainly young people or corporate employees with mid-range or high incomes, who are passionate about specialty coffee, appreciate homemade products and are willing to pay for them. They are simple people who want to enjoy the moment and are not interested in exclusive places in Bucharest," the entrepreneur notes. The coffee comes from various local roasters, while the fresh food & drinks part is made in their Tineretului location and the cheesecake is made by Dan's partner's brand, The Slice.
When you know you want to be an entrepreneur
Dan Posea made it as an entrepreneur at 25, although he had been thinking about the concept for a few years. "Before I opened Teto, I was a student at the Geography School of the University of Bucharest and I had an online business – a website promoting Romania. I'm still in charge of that business," he says.
He admits that he hasn't had any experience in this industry, but that it's not a requirement for success. "I'm not trained in this area. I graduated from the Geography University, I worked in a tourism agency for six months and I realised that I had to work to achieve my dream. I had always been attracted to entrepreneurship, and 2018 was the year when I managed to take my projects forward," he recounts. His passion for coffee, his appetite for challenges and his leadership abilities made him take a risk in an unknown field.
Work and personal sacrifice are the key to his business success. "There was a lot of work involved and I knew from the start that I had to make sacrifices," Dan explained.
The company he founded currently has two cafés in the centre of Bucharest – in the Tineretului and Unirii areas.
The investment reaches EUR 100,000, and for 2019, Dan Posea estimates revenues of EUR 100,000.