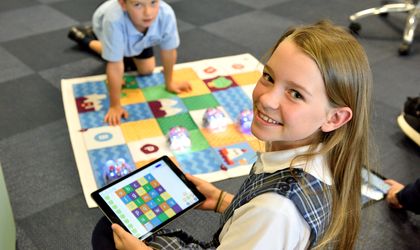 It's September all over again so it's back to school time. For those of you who have children, you know that the use of smartphones and tablets at younger and younger ages seems to be the normal thing now. Although it's not necessarily a growing requirement for teens and pre-teens to go online for school assignments and classroom projects yet, more and more schools – both public and private – offer IT&C courses for children to make them tech-literate and even create their own apps and websites. What should you consider having as app? Business Review has compiled a list of possible aspects you can follow online through an app, for both you and your kiddo. 
Parental control apps
Many apps are introducing parental control tools for iOS and Android devices that can help limit screen time and phone usage while also filtering the kinds of websites children can access when surfing the web.
You may want to consider the Google Family Link app, which is a completely free tool parents can use to control what apps their children download on their devices, how much screen time they're allowed to have each day, and what content they can purchase. It works on both Android and iOS. 
Phone trackers
Maybe you want to know where your kid is at every moment, but this can also apply to other family members. Some tech-specific websites mention PhoneTracker as the best free app. It's worth a try and can be used by Android and iOS users, too.
Sort things out
There are at least two wonderful cross-platform tools people use to keep track of all sorts of things — photos, documents, videos, recipes, lists and so much more. One is Google Drive and the other is Evernote – sharing is caring, sorting is mandatory. 
Extra mile learning tools
App libraries are full of wonderful resources for information and interactive lessons, so the list is very subjective. Still, we highly encourage to download the dictionary.com app for daily English head-ups and Khan Academy – they have tools for parents, teachers and of course, students. 
Safe travelling
For Bucharest, BlackCab's ride-sharing app has recently re-launched KidsCab, a custom-made service for parents who don't have time to take their kids to/from school or other activities, and they also provide equipment for kids' safety. Parents can track their kids online and can see through the app the exact location of their child. 
Getting inspired
Probably the most motivational platform in the world is TED Talks. Now, the app offers more than 3,000 TED Talks from remarkable people, by topic and mood, from tech and science to the surprises of your own psychology, and these talks are available in several languages. They also have a kids' section, so it's really worth a try.