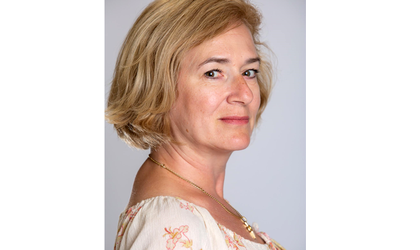 The 6th edition of Mastering The Music Business conference and showcase festival, the biggest international professional event organised in Romania for the music industry, will go on in 2021. In a hybrid format, on and offline, #MMB6 will take place between August 31 and September 2, 2021, at Hotel Caro and Club Expirat. For 3 days, Bucharest will become the focal point of the European music business, the place where musicians and music business professionals from around the world will share ideas, information, good practices and discuss about the future.
In 2021, Mastering The Music Business will organise again MMB Showcase Festival, which will take place in Club Expirat with local and international bands presenting themselves to create new business opportunities but also to expand their international fan base. To find out more about #MMB6 and all its features, we went straight to the source and talked with Anca Lupes, the Founder of Mastering The Music Business.
It's been 5 years since the first edition of Mastering the Music Business, so please walk us through those 5 years from your perspective as founder?
We started in 2016 with 2 days and 12 speakers from 3 countries and now, in 2021, we organize the conference in 3 days and we have more than 100 speakers from all over the world. The number of participants increased from 96 in 2016 to almost 500 in 2019. This year we are limited to 300, according to the rules in force.
In 2017 we also organised the MMB Showcase Festival, which brings together Romanian and international artists, eager to present their live shows to professionals participating in the conference. And we are talking about organizers, festivals or concerts/ tours bookers, managers, representatives of record labels, journalists etc.
What were the biggest challenges for the conference during those 5 years?
The biggest challenge was to familiarize our colleagues in the local industry with the idea of the conference, to show them why it is necessary to participate and what are the advantages: finding out new information, networking with professionals from other countries, the opportunity to start new collaborations both nationally and internationally and so on.
Then, when things seemed to be on an upward trend, the pandemic hit… The 2019 edition was canceled a week before it started, which was a pretty hard blow for us, especially financially. We regrouped quite quickly and we managed to organize an online edition in 2020, with the help of a grant obtained in the ACCES Online program launched by the Ministry of Culture.
And your proudest moments?
Fortunately, there were a lot of good moments! The first one was when 5 respected and experienced professionals joined my team starting from the second edition. Then, another important moment was when we, the organizers, started to be invited to other international conferences to present Mastering The Music Business and to talk about the music market in Romania. Then, when we were co-opted into two international European projects.
We're talking about a large project (in which we are 10 partners from 9 countries), HEMI Music Hub, whose main objectives are to increase the level of entrepreneurship education in the music industry and the mobility of artists in Central and South-Eastern Europe. The second one is smaller (with 6 partners from 5 countries), MEWEM – which is a mentoring program for young women who are at the beginning of their careers in the music industry and who benefit from the experience and advice of 10 successful women in the field.
Last but not least, as a result of the participation in MMB, representatives of some international professional organizations proposed and supported the establishment of local professional associations that they integrated: INDIERO (association of independent music production houses), MMF Romania (Music Managers Forum) and WIM Romania (Women In Music). Through these associations, their members in Romania have access to international professional communities, part of European or world organizations: IMPALA (for indies), IMMF (for artistic managers) and WIM (world organization of women in the music industry).
What about the music industry as a whole, how did it evolve since you founded MMB?
The industry has evolved beautifully in recent years, new names of artists have appeared permanently, in 2019 over 100 festivals of different musical genres were organized in Romania, among those on tickets. Not to mention city days and other events. So, the live scene was extremely effervescent and with it the whole industry grew. This was until 2020 when the COVID-19 pandemic sent this industry back at least 10 years. Due to the financial losses suffered, the decrease of jobs, the migration of professionals to other fields and even countries, we are now in a period of deep deprofessionalization of the field.
Like the whole events industry, the previous edition (2020) was organized in an online format, and now, in 2021, you're switching back to hybrid. How did you manage to navigate during these turbulent times in an industry which was among the hardest hit by the pandemic?
It was very hard. Like all other fellow organizers, the hardest part was fighting the lack of predictability. Initially, we had scheduled this year's edition in May, but in the end we rescheduled it for August 31 – September 2, because we wanted to be sure that we could organize it physically. People got tired of so much online and we tried as hard as we could to do it even hybrid, given that most of the participants will be at Hotel Caro, in the conference rooms. Some speakers (especially those from other countries and other continents) will be present in live broadcasts, online, in conference rooms. Let's say that from this point of view, we found an opportunity to have speakers like Steve Vai, Jordan Rudess, the representative of Rolling Stone India or the booker of the biggest festival in the United States, Summerfest.
A recent BR analysis explored the new trends that will reshape the music industry. What is your take about trends such as livestreaming, online concerts, VR, etc.?
I agree with many of the ideas in the Business Review analysis. The pandemic, with the sudden and indefinite suspension of live concerts, has forced the industry to focus more on online. Either we talk about live concerts filmed live or pre-recorded, for free or for money, or they were broadcast on video games (I think Fortnite was the first to host concerts of artists like Travis Scott or Ariana Grande). Many artists have opened accounts in Patreon and deliver audio/ video content to subscribing fans. Many have started video podcasts. New songs, videos and albums have been released. Older projects have been revived and new ones have started. For many artists there was a creative effervescence, designed to open up new revenue ways to replace, at least, those obtained in concerts. New technologies have emerged such as NFTs, new platforms for music content etc. They will continue to grow so that the industry does not remain uncovered, as has happened in the last year and a half.
And yes, I think the future belongs to independents, who now have all the tools at hand to create, promote and sell their own music. Since 2016, the Artist Direct category has appeared on the global market of recorded music – artists who produce and sell music on their own. Initially – according to figures released by MIDIA Research – the market share of these artists was somewhere around 1.5% and in 2020 it reached 5.1% of the global recorded music market. Specifically, DIY artists earned $ 1.2 billion in 2020. And they won't stop there.
Can you give us a quick peek into this year's edition, what to expect from it and what are the main points which attendees will take home after the 3-day event?
As I said, this year we will have over 100 speakers from almost all continents of the world: Europe, America, Asia, Africa. The conference subjects focus on online, on how to develop your career and business in the virtual environment, on case studies of good ideas and initiatives that the music industry had during the pandemic, on the mental health of artists but also of the professionals in their teams. August 31 will be the day of workshops when we'll talk about music composition, online and social media marketing campaigns, copyrights and contracts in the music industry, how to build a business plan, music publishing house, how to release a CD/ vinyl, how to grow your fan base on Bandcamp, tips & tricks about increasing the Youtube channel etc.
On September 1st and 2nd we will have a Spotify masterclass held by someone inside the company, we will discuss music journalism, partnerships with brands, the future of live music, how new musical talents are discovered in the 21st century, the recipe for a successful music hit, film music and advertising etc. Obviously, let's not forget the highlights of the conference – the interviews with the two remarkable artists – Steve Vai (genius guitarist, multiple Grammy winner) and Jordan Rudess (keyboardist of Dream Theater, the most famous progressive metal band in the world).
I hope that from this rich offer, everyone will go home with useful information and the message that the music industry seems to be dying, but not surrendering 😉
Let's not forget that the evenings will offer us fresh music from Romanian and international artists in Club Expirat – starting with 20:00. All conference participants will have free access to the MMB Showcase Festival.
To see all the speakers of this edition, as well as the complete program of the conference and the festival, we invite you on the website www.masteringthemusicbusiness.ro or on our Facebook/ LinkedIN pages.