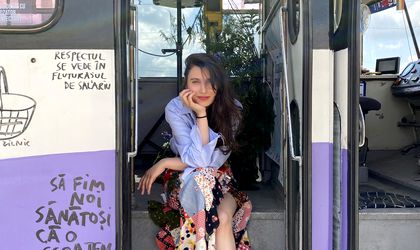 In the world of art and culture, there are initiatives that transcend boundaries to bring creativity into the heart of public life. Business Review had the privilege of speaking with Loredana Munteanu, the visionary founder of "Arta nu Mușcă" – a cultural NGO that has been making waves since its inception in 2012 in Bucharest.
"Arta nu Mușcă" is not just an organization; it's a movement aimed at democratizing art and enriching the urban experience. At its core, this cultural endeavor seeks to create meaningful artistic projects in public spaces, with a particular focus on public transportation, to make art accessible to everyone.
Could you provide an overview of "Arta nu Mușcă" for those who are not yet acquainted with its underlying concept? 
Arta nu Mușcă was initially the topic of my dissertation thesis, and then, with a little courage, I have turned the idea into a cultural NGO in 2012, Bucharest. The focus has been always on creating cultural projects in public spaces (mostly public transportation) with the aim of facilitating art for the general public. I believe art can be for everyone and Public spaces deserve to be experienced in an artistic way as well and the general public should be more encouraged to interact with art.
Over the recent years, your organization has notably focused its efforts on curating poetry-centric projects. Could you explain the trajectory that led to this strategic emphasis on poetry events?
I have to admit that everything I had put energy in was also a way of understanding the world I live in, myself or people around me. Each project is an extension of my current concerns. I never start working with a specific strategy, I know, it might not look good or seem inappropriate, but I deliver better results in my own pace. I dont like rushing things.
On the other hand, there is a particular thing, a sort of my companion in the past 12 years: poetry that shaped the way I see things, until I decided to create a project based on a poetic experience. I think Poetry is perfect for public transportation spaces. It says a lot with so little during their fast commute, in order to move something in people's hearts/minds.
How do you believe poetry can positively impact urban environments? What benefits do you foresee from integrating poetry into the city landscape?
Poetry can work as a helpful constant reminder that life is not only about making money, paying the bills, food,  worring, it is also about trying to really observe what is around you while you commute, to question yourself, to care more.
Poetry might not save the world or the community where it is integrated, but small details can make all the difference and it is worth trying.
Your current project in Timisoara is a street performance with poetry, which is quite intriguing. How do you go about selecting the poems for these public displays? But for the places you choose to appear?
The last project is called "Poetry tram", which was held in Timisoara-during the european capital of culture context. It was about creating 5 special performance tram trips with one of the best contemporary 5 romanian poets, such as Svetlana Cârstean, Moni Stănilă, Alina Purcaru, Radu Vancu and Andrei Dosa, in order to promote contemporary poetry, rediscover the history of the city and to reconnect with us.
I have chosen this particular 5 poets, because I admire their work and I am following their activity. The poems they read during the tram trips were their own choice. But during the promotion I was recommending poems based on what moved me personally. When the project ended the poets started creating a collective poem, each one contributing with 3/4 verses dedicated to Timisoara and its people.
Furthermore, in August, with the help of the local writer, Bogdan Munteanu, we decided that the best spot the poem to be stenciled is next to Bega River, where people mostly come there to chill, to relax, to walk, to hang out and it is a great chance to take a minute to read. I am very happy with the result.
What are some unique challenges you've faced in implementing poetry performances in a bustling urban setting? How have you overcome these challenges?
Well, it is classic: the delay of the responses from the public institutions. The initial plan was that the poem to be stenciled until 15th of July, it happened on 9th of August in the end. I treated the matter with patience while Bogdan Munteanu was insisting with emails and phone calls to have the final signatures.
Poetry can be a powerful medium for expressing emotions and thoughts. Can you share any memorable anecdotes about how your events have resonated with the city's residents?
I remember when people wrote us after their poetry tram experience saying that it is incredible how the city feels different when you allocate time to really see it. Or when they decided to buy poetry books after they listen to a poet and send us photos. Also, their surprise that there are still Romanians poets after Mihai Eminescu, Tudor Arghezi or Nichita Stănescu or that contemporary poetry has no rhyme, but a lot of force.
You did similar events in Bucharest and Timisoara, with the poetry tram. Have you found any differences between the public?
The first edition took place in 2019, before Covid-19, in a tram on route number 1, in Bucharest, with an interactive library and public readings every evening, at rush hours, a place where poetry became gradually a travel companion during people's commute.  At first, some people looked confused thinking that they took the wrong tram. Other opened the books in a reserved way. They felt very surprised back then.
The second edition took place in 2022, Bucharest, after Covid-19 with a different concept: 5 special tram trips around contemporary poetry (5 poets),  classical music (5 musicians) and the history of the city (historical guide) in a classic tram that does not normally run, inviting people to allocate time for poetry.
It felt different, people were missing so much the energy of going out, of spending time together that they were so happy and pleased about this poetic experience and the chance to see their commute though other lenses. Curiosity and gratitude.
The last edition was held in Timisoara, during the European Capital of Culture context, where people seemed to get used to many cultural projects in the city. It was a challenge for us, but in the end, we discovered their kindness and openness to poetry. Moreover, participants during all 5 tram trips were from other cities around Timisoara as well. We are still receiving tags and photos from people that pass by the collective poem next to Bega River.
Poetry can sometimes be perceived as niche. How do you make your events and performances inclusive and accessible to a diverse range of city residents?
Art in general can be perceived as niche and I can understand why. It feels optional. It is important to make a living first, to pay your bills, but it is equally important to cultivate your spirit. Reading, in this sense, is the fastest way to access new worlds.
The projects are accessible (no fee entrance) for everyone, but with limited seats have for the tram trips and for 2 hours performance, people have the chance to meet the poets, to listen to contemporary poetry and try to give credit to other poets than the ones we learned in school about.
On the other hand, the collective poem which is stenciled on the sidewalk has no limitation (seats, hours), is dedicated to general public on long term, as an open love letter for the city residents.
Could you share some insights into the creative process behind incorporating poetry into street art? How do you ensure that the poetry aligns with the urban aesthetic? 
It was fun because it had two components. First, I talked with the poets about the idea of creating a collective poem based on their relationship with Timisoara, or/and with the tram experience. All five of them instantly agreed. Then it followed a process about the structure, the rhythm, number of verses, the length, the message, and the order of the poets.
Secondly, I decided with my team that each person that send us a participation email request for the tram trip is asked to help us by describing the city in three specific words/expressions. Then we created a list with all suggestions and send it to the poets to use what they think is more helpful. Somehow, the poem was created with the help of people of the city.  Poetry should not be beautiful but convey a truth.