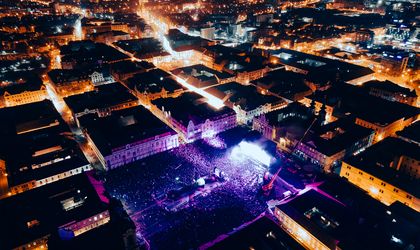 The grand opening of Timisoara European Cultural Capital (ECC2023) gathered locals and art enthusiasts from all over the country, with significant international presence as well, to celebrate over 10 years of working on how Timisoara will shine for this particular series of events.
For the opening, Timisoara has been a welcome host for experimentation and collaboration, whether we are talking about arts, technology, architecture, education, or culture in general. 
In terms of investments, ECC2023 will receive over EUR 44 million, out of which EUR 40 million come from Timişoara City Hall, Timiş County Council, and the Ministry of Culture, as well as EUR 4 million from corporate sponsorship.
"In total, there are investments of EUR 150 million in the cultural infrastructure, for the occasion of this title. Not all projects will open this year, some will happen in the following years as well, we are transforming cinemas, the former water tower, and other cultural objectives", said Dominic Fritz, the mayor of Timisoara.
For this opening, in a previous statement offered to Wall-Street.ro platform, Dominic Fritz mentioned that for the weekend, RON 7.5 million were provided from the local budget and RON 800,000 from the Ministry of Culture. In the same interview, he explained that every euro invested has a return on investment of EUR 3-4, if the investment is well made.
Furthermore, the mayor outlined that they are waiting for up to one million visitors this year, and the official program includes over 1000 events.
At the event, MEP Adina Valean, who presented "Melina Mercouri" Award for Timisoara as 2023 European Capital of Culture said that the moment represents a set of responsibilities, but also benefits that Timisoara will be able to benefit from in the coming years.
Among the benefits of the title won by Timisoara, European Commissioner Adina Valean emphasized that membership in the network of European cultural capitals is more than symbolic, and experience shows that the host cities have had significant long-term benefits in terms of urban regeneration, improving the public image or capitalizing on innovation potential.
Following the grand opening, Business Review will continue to offer glimpses of Timisoara's cultural program this year.