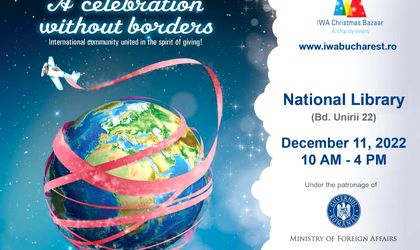 The 30th edition of the IWA Christmas Bazaar will be marked this year by three decades of good deeds. It is a special edition and, with its anniversary nature, promises to be a unique experience for those eager to discover special gifts from over 60 countries, enjoy a multicultural atmosphere and at the same time contribute to supporting people in need.
"After two years of reinventing the Bazaar in a hybrid format, we have been eagerly and excitedly awaiting this edition. Together with the diplomatic missions accredited in Romania, as well as representatives of the expat community, we joined forces and managed this year, through perseverance and solidarity, to present the Bazaar to the public in a new location and to prepare numerous surprises at the stands of the participating countries, as well as vibrant moments on the stage of the event. Organising this edition was a challenge, so I would like to thank all those who made this special exercise in public and cultural diplomacy possible," says Marina Coanda Bundac, coordinator of the last 10 editions of the Christmas Bazaar.
Some 600 volunteers from over 60 countries joined forces in the name of solidarity, empathy, diversity and cultural diplomacy. The participating public will enjoy music and dance programmes, demonstrations of crafts and culinary customs, presentations of traditional objects specific to each culture represented, all offered through the generosity of the 60 countries that have chosen to get creatively involved in organising this event.
"The IWA Christmas Bazaar is a blessed event. The bazaar unites, connects, spreads excitement and creates magic," says Delia Sfetcu, IWA President.
Every year the international community in Romania responds to IWA's invitation to support local projects in which the organisation is involved. The funds raised from the sale of traditional products of the participating countries and from sponsorships will be redirected to associations that support people in need.
IWA Christmas Bazaar is a charity event organised every year by IWA (International Women's Association of Romania) under the aegis of the Ministry of Foreign Affairs. This year it will take place on Sunday, 11 December 2022, from 10:00 to 16:00, at the National Library of Romania.
IWA – International Women's Association of Romania is a non-governmental and non-profit organisation founded in 1978. IWA is made up of members from the Diplomatic Corps accredited in Romania, but also from the civil community – cultural or business – representing over 60 countries.