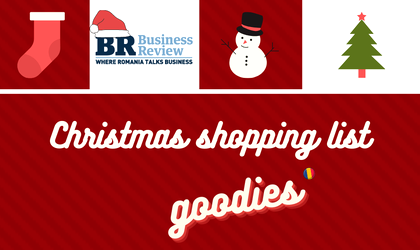 With some cities in lockdown and a pandemic crisis in place, with the number of cases increasing every day, Christmas Shopping List will be a bit of a challenge for everyone. Up until now, small gatherings are still permitted, so maybe you should plan this vacation for family only. But Santa will find everyone, so Business Review made a list of shopping ideas for the loved ones.
This year's list will focus entirely to Romanian entrepreneurs and Romanian businesses in order to sustain small businesses. Buying locally also helps keep money circulating in the community, while the local economic return from independent businesses is on average 48% of revenue from independent businesses. Chain retailers, by contrast, recirculate only 13.6% of their revenues in the communities where they do business. When you factor in buying local products at a local independent store, that percentage is even higher.
Business Review kindly suggests you to buy products from certified sources and read carefully the labels.
BR's Christmas Shopping List: international goodies
One of the best options to offer premium goodies is to take a look at Le Manoir gift boxes. From the recently launched panettone made by Dolce & Gabbana to wonderful foie gris, selected wines and fine chocolates, everything comes in beautiful packaging. Take a look here for their offers.
For those with an Italian sweet tooth, a must is Degusteria Francesca, while Delicateria Traiteur recently launched another brand, Idelica.
BR's Christmas Shopping List: local premium goodies
A selection of Romanian premium cheese and wines are available in special boxes prepared by Alina Iancu and her online shop Revino Cheese and Wine. You will be surprised by the variety of local premium cheese and the pairing with wine.
BR's Christmas Shopping List: online markets for goodies
We don't encourage the offline shopping due to the medical crisis, so online you could try to order from Real Foods, Bacania Rod, Bancania Veche or Paninaro.
BR's Christmas Shopping List: food hubs go online
Since 2017, The Romanian American Foundation (RAF) has been creating food hubs in Romania through a programme they finance themselves. The RAF programme for developing the Food Hub business model began after a working visit to Philadelphia and New York. Together with the Civitas Foundation, they developed five food hubs that connect farmers and small local businesses to urban consumers. The food hubs are located in Bucovina, Cluj, Brasov, Iasi, and Odorheiul Secuiesc and they contribute to maintaining a local agricultural and gastronomic culture, to preserving tradition, reconnecting urban and rural areas, and promoting a healthy lifestyle.
Asked by Business Review about the typical food hub customer, Oleg Moraru, the coordinator of the RAF programme, explained that "most food hub customers are people between 25 and 45 years old and married, especially women. Also, in the last 2 years, some food hubs have managed to develop the B2B sales channel that allows companies with more than 100 employees to contract 'standard packages' for employees by offering them gifts for their birthdays or holidays like Christmas, New Year, Easter, Children's Day, etc."
Even before the pandemic broke out, the share of online orders from these food hubs was quite high, especially in the case of hubs that had assured distribution nationwide and carried out frequent marketing campaigns to promote their products. Since March 2020, when the lockdown was introduced, the number of online applications has increased by over 400 percent, Oleg Moraru added.
Another particularity of these food hubs are the relatively small distances from the points of production because the concept states that all these products should reach customers within a maximum of 24 hours from the time an order is placed. Furthermore, all their commercial activity is taxed, and food hubs products and manufacturers have all the approvals and authorisations required for production and sale. Their main concern is to ensure the rapid distribution of products, the high quality of these products, and a greater diversification to encourage and further increase the trend of ordering online from local products. In addition, they develop various training programmes for local producers in these areas, regardless of whether or not they collaborate with the hubs on the sales side.
We can currently order goodies from this food hubs as follows: products from Cluj region are available from Nod Verde, products of Bucovina can be ordered from Nord Natural, goodies from Odorheiu Secuiesc can be bought from Helyénvaló and from Iasi region – Roade si Merinde.
Business Review will continue Christmas shopping list every day until almost Christmas. Please buy responsible and try to offer something for those in need. This Christmas is going to be even more special. If you know a business that can be featured in one of our lists, please contact us. Read all our Christmas Shopping Lists here.