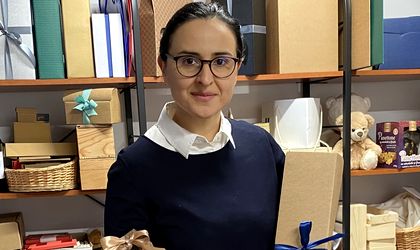 For this Christmas, Business Review has started a list of Romanian entrepreneurs and businesses offering Christmas packages and gifts. For those interested in some Romanian curated goodies, Business Review talked with Alina Iancu, founder of Revino.
How do you describe your work to someone who doesn't know anything about your offers? 
Revino Gourmet is an online shop that offers cheese and wine boxes, gourmet gifts that includes also meats, truffles, and sweet specialties. We have 90% of premium Romanian products and we also offer corporate gourmet tastings and other types of events.
Why choose a tailor-made present (or curated selection) for Christmas? Why yours?
Because cheese and wine it's a great experience for holidays. But also because we complete our gift boxes with products for all the family members. We have also a tasty homemade cozonac for this Christmas.
How did you prepare for this festive period? Do you expect increased sales?
People ask for everything, and because we are selling packaging products, we are ready for this holiday in October. We expect gifts sales are 500% bigger than an average month.
What's the most important lesson you have learned by creating your product?
It's a lesson that I learned since launching the gift experiences and working with local producers: quality products and professional services make wonders together.
Business Review will continue the Christmas shopping wishlist every day until Christmas Eve. Please buy responsibly and try to offer something for those in need. This Christmas is going to be even more special. If you know a business that can be featured in one of our lists, please contact us. Read all our Christmas Shopping Lists here.