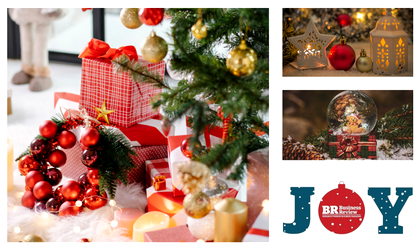 Last year, Business Review started a holiday special editorial series featuring Romanian entrepreneurs and businesses which offer Christmas packages and gifts. This year, establishing our very own BR Christmas tradition, we will continue the shopping list with fresh new ideas for your family, friends, or colleagues.
2021 BR's Christmas List: handmade Christmas ornaments
It's definitely the most wonderful time of the year, although the pandemic crisis is still present in our lives.
Check small handmade surprises from Breslo online shop, Fuleki Glass which produces decorations with Murano Glass or Maruan Stained Glass, which creates custom made stained glass pieces using the tiffany method.
Also, one of the largest glass ornaments stores in Romania has its production in Cluj Napoca, ProdGlob. The company is one of the top players of the market, with production being sold all over Europe and US.
2021 BR's Christmas List: flowers, Christmas trees, wreaths, table arrangements
There is no Christmas without Christmas tree, whether is a natural one, from plastic or a creative form of building a tree from sustainable materials. For some time now, wreaths and table arrangements appeared in our homes, too. See what's in store for instant delivery from Maison Dadoo, Florăria Magnolia, Flori de Lux, Floria.ro, Florariile Iris, or Purple Flowers.
2021 BR's Christmas List: Christmas fairs
The biggest Christmas fair of this end of the year is Bucharest Christmas Market in University Square. Access is based on a paid ticket up until December 26.
The Christmas Fair in Arcub Gabroveni was conceived as a platform to promote the activity of the creative sector in Bucharest and especially of the creators, producers or sellers of design objects, decorative objects (small furniture, lighting fixtures, ceramic / glass objects , illustrations, sculptures, paintings), jewelry, decorations, vinyls, books, albums, stationery, handicrafts, natural cosmetics, clothing, accessories and children's items.
The Makers' Market section is dedicated to creators of design objects, and the Food & Drinks Corner section is dedicated to sellers of hot drinks (tea, coffee, hot chocolate, mulled wine) and artisanal food sellers, and the Education Corner section includes a number of workshops and shows for children. Opened up until December 23.
Mezanin Market at Universul Palace returns with three holiday weekends: December 4 and 5, December 11 and 12, December 18 and 19. Visitors are welcome in a relaxed atmosphere, with passionate people and coffee from Beans & Dots, in the creative district, near Cismigiu. Visitors will be able to find jewelry, interior design products, interesting drinks and sauces, children's and adult clothing, eco-friendly products, books, sweets and honey in healthy combinations, special accessories, natural cosmetics.
Mezzanine Holiday Market brings together over 50 small entrepreneurs such as: Chef Sosin, Fruits of the Earth, Bernschutz, Inner Nature, Lorelicious, NoodFood, Melinis, Huna Crafting Human Nature, Playbuzz.ro, Crafty Grandma, Lea et Maru, Fair Made Bites, Organic Bang , Chez Odette, Dizonaur, Clay Play Ceramica, Mokko, Cremeria, Craxittude & Noir Morphosis, Ler-Povesti Cusute, Panseea, MARARA I Wood & Ceramic, INLIN, Unique Moods, Vandoor, DEPLIN, Lemn si Vin, PATER, Mauverien, Mudly in Love, Atelier Devi, Jardina Bucuriei, Tonic Blend, Mura, Sura Susara, JamSessions, Blop, Atelier Bloom, Miracolore & Atelierul de Porcelain, Shimo Store, Orfevru, Garderoba Infinita, Dulce Bun, SUAV, Maruan, Jardina cu lavanda, Opinca , Energovita, Sorbitor.ro, Manduri de Mana or Vilegiatura Studio.
Nod Makerspace and Mater host the Christmas Maker Fair, an alternative fair with inspired and inspirational products and activities for children and adults.
Through the Christmas Maker Fair, the organizers will make available to the public various options in choosing their holiday gifts, made in Romania, in the creative workshops in Bucharest. You will find small or unique series objects, from accessories, jewelry, ceramics, decorative objects, lighting fixtures, illustration, educational objects for children to culinary delicacies.
In addition to the stands for sale, there will be a series of workshops and creative workshops for young and old. You will find stands with coffee and mulled wine, as well as culinary delicacies. The event will take place on December 17, 18 and 19.
Business Review will continue Christmas shopping list every day until almost Christmas. Please buy responsible and try to offer something for those in need. This Christmas is going to be even more special. If you know a business that can be featured in one of our lists, please contact us. Read all our Christmas Shopping Lists here.