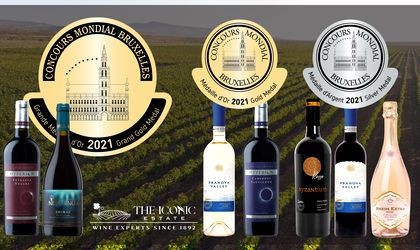 Hyperion Fetească Neagră 2016 and Neptunus Shyraz 2016, two wines from The Iconic Estate portfolio, have won the Grand Gold Medal, the highest distinction of the prestigious international competition Concours Mondial de Bruxelles. The Grand Gold Medal is the most important medal a producer can add to its record and is obtained only by the best wines in the world that demonstrate superior qualities during the rigorous evaluation of the jury.
Hyperion Fetească Neagră 2016 was awarded the Grand Gold Medal, but also the "Revelation of Romania" trophy, offered to the wines that score highest in the category. With a robust but fine structure, this dry red wine obtained from the most precious Romanian grape variety, Fetească Neagră, delights with its aromas, reminiscent of freshly picked fruits, black cherries, currants and ripe plums.
Also, Neptunus Shyraz 2016, from the fascinating Mythological Collection won a Grand Gold Medal, remarkable through the intense spice bouquet (black pepper, red pepper) and black berries, with fine eucalyptus and vanilla notes.
The Iconic Estate is the first wine producer in Romania that won the Grand Gold Medal at the Concours Mondial de Bruxelles 2002, with the wine Prahova Valley Special Reserve Pinot Noir 1999.
Two other wines from The Iconic Estate portfolio, part of the Prahova Valley and Hyperion ranges, were awarded gold medals. Ruby red, with generous flavours of fresh pomegranate juice, soft strawberries, bitter cherries, plums, dark chocolate and moist spices and a lingering, fresh aftertaste, Hyperion Cabernet Sauvignon 2016 won one of two gold medals. The other gold medal was awarded to Prahova Valley Fetească Albă 2020, a fresh, well-balanced and invigorating wine, with delicate notes of exotic fruits, lemon and edelflowers.
Rhein Extra Rosé Brut, Byzantium Rosso 2019 and Prahova Valley Fetească Neagră 2019 also obtained high scores, which brought them silver medals in the international competition.
The 28th edition of the Concours Mondial de Bruxelles took place in Luxembourg and brought together 10,000 wines from 46 countries. The jury was made of industry experts – oenologists, international buyers, journalists, critics and representatives of organizations in the field – internationally acknowledged for their ability to evaluate wines rigorously.
The Iconic Estate wines are available in major chain stores, convenience stores, HoReCa locations, Alexandrion Group partner online shops and on iconicdrinks.shop, part of Alexandrion Group.