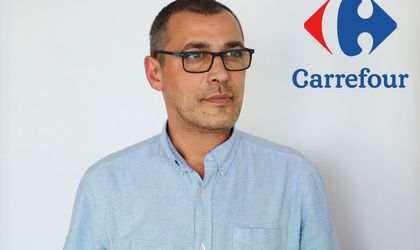 In late 2021, Romanian wines attracted the attention of international experts, following a unique tasting event initiated by Carrefour Romania and Marinela Ardelean, in partnership with The Iconic Estate, in New York, where experts were impressed by the quality of the 6 wines from the We Open Romanian the Wine program (Deschidem Vinul Românesc). To find out more about the event, and the Romanian wine market as a whole, Business Review talked to Mircea Niculescu, Senior Wine Buyer at Carrefour Romania, in an exclusive interview.
First and foremost, please tell us more about Carrefour Romania's strategy regarding the wine segment, the We Open the Romanian Wine program, the investments made so far, their results, and plans for development, both nationally and internationally.
Romanian wine has so much untapped potential. It has unique varieties. It has a very long, rich history. Just a few years back consumers used to drink wine in HoReCa or buy it for home consumption from specialized stores, which favored established and premium wines. As a result, smaller wineries had limited exposure. We can now say that the modern consumer is more educated, more open to trying new varieties and used to finding good wine options in retail and, equally important, wineries of all kinds now have higher visibility. And we are happy to say we have had a major contribution to this development.
It all started in 2019, when we launched the We Open the Romanian Wine program, designed to support local wine producers and to bring local, good quality and affordable wines closer to consumers. The program is part of our Act for Food commitment for sustainable development, through which we encourage the transition to locally sourced products of the highest quality. The program started with a selection from Romania's 7 wine regions, through the Wine from Your Region pillar. Then the program was extended with 2 more pillars – Exclusively at Carrefour (exclusive labels, created by famous Romanian wineries only for Carrefour consumers) and Premium (wines validated by Carrefour experts and sought after by connoisseurs). In 2019, we had only 79 wines from 16 wineries available in the program, and now, 3 years later, we count over 250 wines, from 76 Romanian wineries, a very important first result for us.
In terms of investments, we have targeted several areas: acquisitions – we have been very proactive in talks with suppliers and significantly extended our offer of wines every year; dedicated spaces – we designed the WineSquare concept, a space in stores where wines are presented and kept in conditions similar to those in wine cellars; human resources – we have a team of 5 sommeliers who assist our customers in several stores to buy their preferred wine. Additionally, since the beginning of the We Open the Romanian Wine program, we have constantly created campaigns to promote the wines and wineries in the program and we organized a diverse range of activities for consumers (winery visits, online/ offline tastings, special promotions).
After a strong local focus in terms of campaigns, we've recently took the next step, seeking to contribute to our long-term objective, which is to transform the Romanian wine into a brand of reference for our country. We took a selection of local wines to the USA, organizing a wine tasting in New York for connoisseurs and visually promoting Romanian wines in Times Square through sharp messages. Everything we do, we do it for the Romanian wine – because our wine deserves to be recognized and appreciated, both locally and internationally.
Every year, we have registered sales increases for the wines available in the program, which proves that Romanian wines have gained local appreciation. For example, the regional wines had double sales figures in 2021 compared to the previous year. But we do not want to stop here, we want to continue to invest in promoting Romanian wines, because they are worth it – that's why we are constantly looking to develop partnerships with business communities, along with Romanian wineries.
At the end of 2021, six Romanian wines, part of the We Open the Romanian Wine program, went to New York to be tasted by renowned international sommeliers; what can you tell us about this unique event and how were the wines received by the experts?
The unique tasting event in New York was hosted by Marinela Ardelean, Wine Expert and the ambassador of the We Open Romanian Wine program. The event was organized in partnership with The Iconic Estate and was held at the AVRA Madison Estiatorio, a very important restaurant in New York city. The event brought together over 40 journalists, international experts, importers, and authorities who tasted for the first time a selection of Romanian wines, made from 5 local varieties, some of which are grown exclusively in Romania.
The audience was impressed by our unique wine tastes that they even recommended Romanian wines among the best to try this year. Among the wines tasted by the American experts were Rhein Extra Magnifique Brut, Hyperion Fetească Neagră and Hyperion Rose from The Iconic Estate, Avincis Olt de Vie Negru de Drăgășani and Averești Domains – Busuioacă de Bohotin. Three of these wines are available in the Exclusively at Carrefour pillar from the program We Open the Romanian Wine.
What can you tell us about the aftermath of this event and its results, with two of the wines listed on the US market? Have you noticed an increased demand for Romanian wines abroad?
We wanted to make Americans curious about the authentic Romanian wine, we wanted them to taste our wines and be impressed by their unique taste. We familiarized them with wines that are nowhere to be found in the USA. The American experts had already tasted the best wines this amazing industry has to offer, but never the Romanian ones. Not until the New York event. And it's important because New York is an extremely dynamic and competitive market, including the wine industry.
The audience at the event was impressive, and the Romanian wines presented during the event impressed the American experts, who went the extra mile and recommended these in an article with the best wines to try in 2022, in Forbes US. On top of this, Romanian wines have also been stars on the famous screens in Times Square, along with several influencers, who have chosen to join our initiative.
Moreover, the fact that The Iconic Estate winery is preparing to list 2 wines on the American market (Hyperion Fetească Neagră and Hyperion Fetească Neagră Rose), as well as the oldest Romanian sparkling wine brand, Rhein Extra Brut is a result that shows an interest for the Romanian wines abroad. And I hope that in the future we will be able to see as many Romanian wines as possible on the shelves of international stores.
In terms of sales, reports have shown that 2021 was a good year for Romanian wine; what were the results for Carrefour and what do you expect in 2022?
Since the launch of the program, Romanian wine has become more and more visible among Romanians, which has been seen in the sales recorded along the years. In 2021, regional wines had double sales figures compared to the previous year. Furthermore, we expect Romanian wine to acquire an increasingly strong reputation both on the Romanian market and abroad. We will continue to carry out special promotions for consumers, visits to wineries, online and offline tastings and we take into consideration other events, similar to the one in New York, but this time a little bit closer to Romania. We are constantly working towards making Romanian wine a brand for our country, placing it on the international map of wine, along with countries such as France and Italy.
Romania has a long and proud history of winemaking, but Romanian wines are not the most visible in other markets. How can we improve their image abroad, going so far as even transforming Romanian wine into a brand for our country?
Since the beginning of the program, our long-term goal has been to turn local wine into a brand for our country. We believe in the potential of Romanian wine, because we have very good and diverse varieties of grapes and wines awarded at international competitions as well. Recently, two Romanian wines from our program won 2 gold medals at the international wine competitions in Brussels (Caii de la Letea Geneza Rose – Via Viticola) and in Berlin (Fetească Regală – Pivnița Savu). In terms of wine production, we rank 6th in Europe and 13th in the world, but even so, our wine needs to be better known abroad.
And communication campaigns are essential to this endeavor. We do our part by creating communication campaigns to promote the Romanian wine, special promotions for consumers, online and offline tastings, visits to wineries. However, making Romanian known for its wines requires an industry effort, including in terms of participating in more international competitions, exhibitions and professional tastings dedicated to wine. At the same time, we have to create events that will have a similar impact as the one from New York.
Instead of conclusions, how would you describe Romanian wines in one phrase and what would be the tagline for Romanian wines as a country brand?
Romanian wines are unique, extraordinarily good, high quality, created from rare varieties, some grown exclusively in Romania. Their quality is so much alike to that of Bordeaux wines, but few people from abroad know this. We are proud of varieties such as Fetească Neagră, the star of Romanian varieties, one of the wines that impressed international experts at the New York event.
In a few words, Romanian wines are the best you've probably never tasted. But you should.