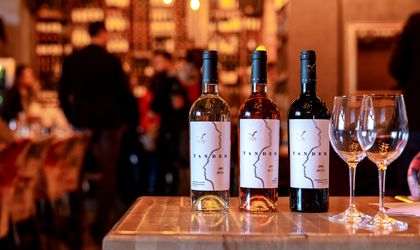 The Tandem Wines collection, a premiere on the Romanian wine scene,  celebrates a year since its launch. The wines are a collaboration between a winery from Romania – Liliac, and one from the Republic of Moldova – Castel Mimi.
Tandem consists of three wines: a red wine and a rosé wine, created at Castel Mimi in Bulboaca, and a white wine, produced by Liliac, in Batoș.
In its first year, Tandem sold 45.000 bottles of wine.
By the end of 2022, 38.000 wine bottles were sold: 60% of them were of white wine, 25% rosé, and 15% red wine. The wines became available in specialized stores, as well as major retailers in the second half of last year, and generated a revenue of 650.000 lei by the end of 2022.
"The public's reaction to the wines in the Tandem collection was very good, ever since the launch. However, people are even more surprised by the story behind it. Tandem is the result of my friendship with Adrian, who was my university colleague in Vienna, to whom I am bound, of course, by a passion for wine, so we put our heads and wineries together in this special project. Soon, we will add a sparkling wine to the collection, as it is more and more popular on the market, and we want as many people as possible to enjoy our wines" said Miron Radic, CEO of Liliac.
—
"The results from the first year are very pleasing, even if it is always the hardest, and for 2023, we expect to double last year's results. We will continue investing in our common project, and create other ones together. As we continue exploring ideas and do more tastings, we will surely create new wines under the Tandem umbrella", adds Adrian Trofim, Castel Mimi's General Manager.
To create the collaborative wine collection, there was an initial investment of 300.000 euros. Currently, the two co-creating wineries are focusing on the Romanian and Moldavian markets, but they expect the collection to enter new markets this year.