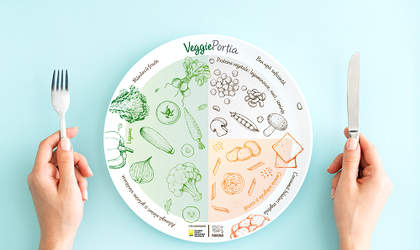 Nestlé, the largest food, and beverage company in the world, launches for the first time in Romania VeggiePlate – a nutritional method that involves the consumption of several vegetables. VeggiePlate is a tool for all those who want to eat more vegetable-based meals to have a healthier and more sustainable diet.
"Foods based primarily on plant products, such as the flexitarian eating style, appeared 10 years ago with the publication of Dawn Jackson Blatner's book "The Flexitarian Diet: The Mostly Vegetarian Way to Lose Weight, Be Healthier, Prevent Disease, and Add Years to Your Life". Such a diet that includes more foods of plant origin, reducing the consumption of those of animal origin, brings multiple benefits through increased intake of fiber, vitamins, minerals, and unsaturated fats. Numerous studies have shown that an intake based mainly on foods of plant origin rich in antioxidants reduces the risk of obesity, type 2 diabetes, cardiovascular diseases, and colon cancer. Foods of animal origin have their role in a balanced diet, should not be completely excluded, but should be consumed in moderation, prepared correctly, and avoiding processed ones. VeggiePlate helps to include more vegetable-based meals in the weekly menu, in optimal proportions and appropriate combinations, so that the meals are balanced and diverse. For a healthy and balanced lifestyle, it is recommended to consume several portions of vegetables and fruits daily, but also to adapt the portions of foods rich in carbohydrates (bread, cereals, potatoes) according to the caloric needs", says Prof. dr Gabriela Radulian, President, Fundația pentru Alimentație Sănătoasă.
Meat consumption has increased since the 1960s, even at an accelerated pace over the past 40 years. Meat is a source of important nutrients, especially protein, which can be whole in a balanced diet, but in moderate amounts, to support a low carbon footprint[1]. On the other hand, in Romania the consumption of legumes – the best sources of vegetable protein – decreased compared to the '80s, when it recorded a maximum annual consumption of 4.49 kg per capita, in 2018 reaching 2.02 kg per capita[2].
"Along with NutriPlate for children, VeggiePlate is part of Nestlé's effort and mission to help improve the quality of life by providing healthy and tasty options for those who want a balanced lifestyle. Nutrition is one of the factors that contributes significantly to quality of life. However, it is difficult to accept strict nutritional recommendations, difficult to implement and we want to find a flexible option that fits our lifestyle. For health or sustainability reasons, more and more people want to eat more plant-based foods, in other words, to become flexitarians. But I do not know how to do it in a balanced way, without compromising taste or nutritional needs. Whether you are omnivorous, vegetarian, vegan or flexitarian, VeggiePlate helps you prepare balanced meals exclusively from vegetables, which provide you with all the macronutrients you need (protein, carbohydrates, fats), as well as a good portion of micronutrients (vitamins and minerals). How many herbal meals you want to eat in a week depends on you and your lifestyle. Completing an older saying, I would say that health means a healthy mind, in a healthy body and on a healthy planet", says Nicoleta Tupiță, nutritionist-dietitian, Nutrition Health and Wellness Manager, within Nestlé Romania.
VeggiePlate
VeggiePlate can be downloaded from the website www.nestle.ro/veggieportia and is a guide to quantity, inspiration, and diversity. VeggiePlate is aimed at those who have decided to taste life in healthy portions, for vegetarians and vegans, but also for those in love with the planet, who know that what we decide to put on the plate has a direct impact on the environment.
Nestlé created this nutritional method in the form of a plate to help those who want to include more vegetables in their diet and, in particular, to increase the intake of vegetable proteins. The plate shows the optimal proportions and the right combinations between different groups of herbal foods, so that the vegetable meals are well balanced and provide the necessary proteins. The plate is divided into three segments: 50% vegetables, 25% vegetable proteins from legumes, nuts and seeds, 25% whole grain products and potatoes. Veggie Guide The portion reminds everyone how important it is to supplement your diet with proper hydration, healthy vegetable fats and fruits.
According to a Eurostat[3] study from 2017, Romania faces a paradox: although we are an important producer of fruits and vegetables, Romania is among the last places in the top of European countries in their consumption.. Just over 40% of Romanians consume vegetables (41%) and / or fruits (42%) at least once a day, well below the European average of 64%. In 2021, a study by Unlock Research and Adama[4] shows a change in consumption behaviour: 51% of those surveyed said they bought fruit and 43% fresh vegetables.
[1] González N, Marquès M, Nadal M, Domingo JL. Meat consumption: Which are the current global risks? A review of recent (2010-2020) evidences. Food Research International (Ottawa, Ont.). 2020 Nov;137:109341. DOI: 10.1016/j.foodres.2020.109341.
[2] https://www.helgilibrary.com/indicators/bean-consumption-per-capita/
[3] https://ec.europa.eu/eurostat/web/products-eurostat-news/-/DDN-20190401-1
[4] https://www.adama.com/documents/620392/0/infografic+studiu+ADAMA.pdf
A.M. Filip